Muscle Cars
Parts For Any Car: We've Never Had It So Good
By
|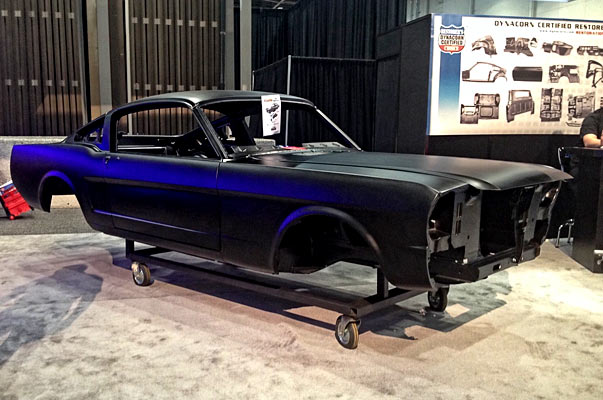 By Mark Weisseg
Two years ago Craig and I were in Lost Wages, I mean Las Vegas and made plans to attend the SEMA show. Let me tell you straight up if you ever get that opportunity please go and spend the entire week.
The show was unlike anything either of us has ever seen. We met guys from Counting Cars, saw Chip Foose, and I got to meet Barry Meguiar. The show is three huge buildings and all the land they could get outside. There is so much going on at all times your head will spin.
It's not a cheap date but your brain will be on overload while you are there and for a long time afterwards.
The picture above caught my eye and imagination. If you had a Mustang that was a bit long in the tooth you can buy a body such as this one. All steel, all done correctly and the pricing was in line. Then, we walked around a corner and saw you could buy a 47 to 53 Chevrolet half ton truck body such as the mustang. Literally, bolt the body on the frame and fill in all the blanks. Not that it is easy to rewire everything, all new parts installed and so on. But, it beats bondo or just a replacement panel that may not fit right and so on. If you have the space, these bodies are the ticket. Imagine a 66 Mustang that was driven in the snow belt. At this stage of its life rust would have been in the fenders, quarters, doors and other pieces.
The car would have had body filler or pieces cut and welded in place. To do a tear down for a restoration your patience would be tested many times. You better be a great welder and sand blaster guy to get it right. I was thinking, gee if one had the space to take the body off and drop this one on top it would save much work. It would be starting all over with a sturdy, strong body. Again, not cheap or easy but there is a market for this and I am grateful companies are making items like this available for our needs. With 3D printing, overnight deliveries, and darn good replacement parts our hobby is getting better. In the good old days you would trudge down to the bone yard and hike around until you found your part. Then, you took it off and dragged it to the office and paid. Dirty, sore, tired and now with less money in your wallet you prayed your replacement part works.
Today, parts are available for nearly anything, just be prepared to pay accordingly. Certainly a carb. for '69 Mach 1 will cost you more than an ashtray for a '68 Plymouth Fury.
In closing this body replacement is made for many types and styles of vehicles. Certainly not for everyone, but it does open doors that were closed before. Again not to sound like a old 45 record skipping but embrace the changes in our industry because standing still will do us in.
More Muscle Cars For Sale – http://fastmusclecar.com/muscle-car-for-sale/
Donate To Fast Muscle Car
We spend a lot of time bringing you muscle car content. If you would like to donate something to help us keep going, that would be fantastic.
Parts For Any Car: We've Never Had It So Good

,