Best Muscle Cars
All Rise The Plymouth SuperBird!
By
|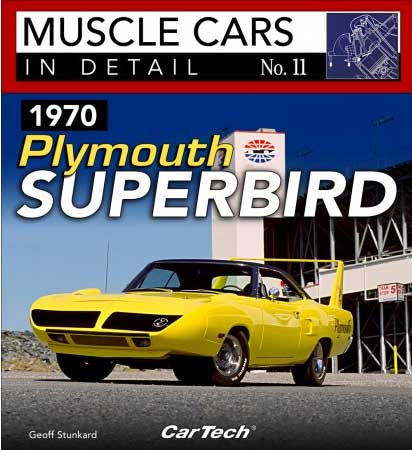 By Mark Weisseg
This book review was so much fun. I have so many memories of this car and I will share them later with you.
First, the author of the book is Geoff Stunkard, a very well known expert regarding Mopar. He, along with guys like Dave Wise are legendary when documenting the Mopar legends.
The book is from our friends at cartechbooks.com. This book is 96 pages of certifiable fun. Packed with 120 color photos along with information to make your head spin. The author starts the journey for the reader at the beginning. And then takes you step by step. From why the Superbird was built with the large wing on the back to its racing heritage and then to its street creds. Like any good author Geoff takes you step by step so you can follow the "bird" from beginning to its end in chronological order.
I don't want to give away the money shots in the book but let's touch on a few interesting topics. The Superbird was a descendent of the 1969 Dodge Charger Daytona. Why is that important? Well, you can send a note of thanks to the King- Richard Petty. Petty was a second generation stock car driver. He raced for Plymouth and won many races. Now, King Richard as we know him today saw what the Charger Daytona and the Ford Talledega was doing on the track and wanted something from Plymouth to compete. Plymouth had nothing so the King jumped to Ford. Well, that got the Plymouth folks mighty worried that they had lost the face of there racing program. Hence, Plymouth built the Superbird as they called it. The King returned and drove this monster to the winners circle. And it was just not Richard Petty. Pete Hamilton drove the 70 Bird to the winners circle at the Daytona 500 and many other drivers followed.
Well, Plymouth could only use the Superbird on the track as long as they built a minimum of 500 for street use. This is were the author really accelerates his story. And it's the point where I can finally add my own recollections of the Superbird.
I can remember going to the local Chrysler Plymouth dealerships with my Father. He was a big Mopar guy his whole life. He and I would attend car shows and browse car lots on Sundays when the dealerships were closed. I recall making a comment that the Superbird was a Road Runner with a wing on the back. Dad knew better and told me the dirty little secret. Yes, it was a 70 Road Runner but it had front fenders from a Dodge Coronet! And the nose cone was added on at a separate plant outside the Lynch Road plant in Detroit.
The author provides in depth detail of this true story. The author also delves into what engine, transmission, rear end and what paint schemes were used. Mr Stunkard also provides a dictionary account of how to read a fender tag, a VIN tag, where the numbers are stamped on the block, and how to match them up. This is done so a buyer can really make sure it's a numbers matching car. The author provides insight on what to look out for if you are going to buy one. They only made 2000 Superbirds so he warns you to watch our for replicas or fakes. With knowledge from the book you can note why they all had vinyl tops, why only two engines such as the 440 and the 426 were used. The book just hits the mark for anyone who wants to admire a Bird or really wants to own one. You better hit the lottery or get a big inheritance if you want one. Rarity drives prices up and this bird is no exception.
I have a friend who has a 1970 original Bird. He has a 440 with a 727 transmission. It's a survivor with less than six thousand miles. When he brings it to shows people swarm the car. Old guys like me smile because back in the day the dealers could not sell them. I mean who wants to drive a car to the grocery store that has a big wing on the back? Dad and I would see these birds on dealer lots as late as 1973. They parked them way in the back like they were embarrassed about having these strange cars on the lots. In the eighties another friend of mine had one. He rarely drove the car. When asked why he replied " people laugh at me". He sold it in a year. Ouch.
I encourage you to buy this book. It's a fun read, yet informative. You will learn all the things that went into the build of this now master piece. Cartechbooks.com has this book as well as hundreds of other books for your reading pleasure.
https://www.cartechbooks.com/1970-plymouth-superbird-muscle-cars-in-detail-no-11.html
More Muscle Cars For Sale – http://fastmusclecar.com/muscle-car-for-sale/
Donate To Fast Muscle Car
We spend a lot of time bringing you muscle car content. If you would like to donate something to help us keep going, that would be fantastic.
All Rise The Plymouth SuperBird!

,