Best Muscle Cars
How to Maintain the Shine of Your Muscle Car
By
|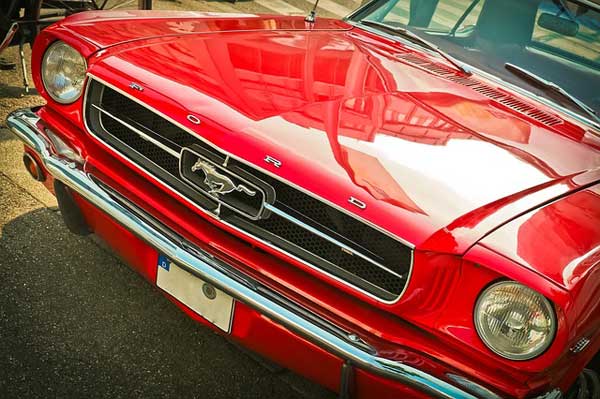 Nobody wants to see a muscle car that looks like it has been sitting in an aviary next to the ocean. Trust me on this, oxidation, bird poop, rust, and peeling clear coat are more likely to get you arrested for littering. Then impress your friends and neighbors. To keep your pride and joy pristine, you need to know how to maintain the shine of your muscle car.
Use High-quality Professional Soaps and Waxes
It is tempting to jump out and use the cheapest brand of soaps and waxes to keep your car clean, but you will only be hurting your vehicle in the long run. Cheap soaps and waxes that aren't explicitly formulated to treat the clear coat and paint of a performance muscle car are little more than splashing water across the hood. At worst, low-quality paints can strip away the clear coat or cause streaking and scratching of your paint job.
Look for treatments from companies that sell only car products, and if you can, look for cleaners and waxes that designed for the specific color of your car. This extra time you take now will keep your paint looking good longer, will help protect it against environmental hazards, and help you go longer in between extensive cleaning and detailing sessions. Added together, this means that you will have more time to show off your ride and spend less time cleaning it.
Try a Ceramic Coating
Ceramic coatings for your car are like a clear coat on steroids. According to CeramicPro.com ceramic coatings have, "3 times the hardness and self-cleaning properties." Automotive ceramic coating will give you years of paint protection and will protect your cars shine from hazardous chemicals, dirt, and road grime. Check out this list of the best ceramic coats that you can apply at home.
Don't Forget the Wheels
When you ignore the wheels of your car, its kind of like looking at a hobbit from "Lord of the Rings," they look like ordinary people until you get down to their gross hairy feet. Keeping your wheels clean and shiny will help add to the overall look of your muscle shine.
In addition to looks, by treating and cleaning your wheels, you help reduce the amount of road muck that transfers from the wheels to your paint job. Once grime coats a wheel with grime, it will start to transfer more of it to your car's paint. Then, you get a bunch of plaque along the edges of your car that looks like your neighbor with the nasty teeth.
Shiny Glass adds Class
Another area that you will want to give particular attention to is the glass surfaces of your muscle car. Make the little extra effort to clean the glass of the car with a cleaner that manufactured for only cleaning glass. A perfectly clean window will add a little extra sparkle to your shine.
Like the wheels, dirty windows transfer their dirt to your paint. You've probably seen the grime streaks running from the edge of a windshield across the roof of a car. Don't give your car the Marilyn Manson running mascara look. Wash your windows thoroughly, with the proper cleaner.
The windows are the one area I would recommend washing weekly, both inside and out. Dust and dirt build up much more quickly than you will realize. Invest in a good set of microfiber cloth gloves that you can use for a swift wipe down of the windows and keep the ugliness away from your car's shine.
Cover it Up
I know you want to show off your car to the world and leave your neighbors drooling in envy of its beauty. However, one of the best things you can do after all the effort to make it shiny is to get a cover for it. Even if you park in a garage, invest a little in a heavy-duty car cover to protect her from all the hazards of the world that want to diminish her shine.
On the subject of keeping covered, InsideHook.com's "The Seven Commandments of Maintaining A Classic Auto" states, "most important: keeping her out of direct sunlight. 'The sun ages a car really fast, especially the paint. And it will bake the interior, causing the fabrics to change color, and the vinyl and plastics to become brittle and break.'Don't let your hard work go to waste because you didn't want to take two minutes to put on a cover. You will thank me later.
Shine Like the Stars
My How to Maintain the Shine of Your Muscle Car guide is quick and simple but will give you a solid foundation of the steps you need to have a muscle car that shines so bright people will think it is brand new. Turn heads, inspire jealousy, get the girl with your gorgeous shine.
Donate To Fast Muscle Car
We spend a lot of time bringing you muscle car content. If you would like to donate something to help us keep going, that would be fantastic.
How to Maintain the Shine of Your Muscle Car

,