Best Muscle Cars
Working For Your Ulimate Muscle Car
By
|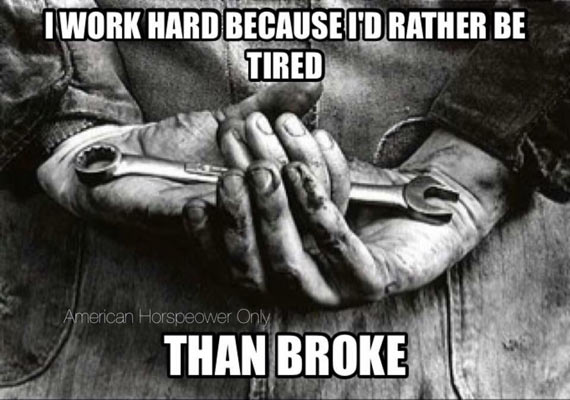 By Mark Weisseg
I mentioned in an article or two that many moons ago I was a mechanic. I worked long days and nights, shift work, cold weather work, hot weather work and more. There were plenty of bad things that happened over the years that made me wonder why I did that for a living. Even to this day I have younger family members who question my stability as to why I worked so many hours for so many years. The answer is right in front of you.
I was always tired and probably a bit grumpy but I was taught to work for what I want and not look for a freebie. I bought my first brand new car at age 20 and my first house at 23. Hell, we have grown men and women who still live with there parents and will never move out. I wanted out!
Our classic cars that are parked and cared for so dearly by us did not come from a government program. It's important to remember that. When I see my collection I can look in the mirror and know it's there because I paid for it. Would I have wanted an easier way? Of course! Working for 13 years, 10-12 hours a day, six days a week was little fun. But when you are hungry for a better life you do what is needed. That is the case of our classic cars. Few people want to buy say a 67 Camaro and keep it 50 years without buying another.
Certainly keep that '67 if you can but most of us want another. We want to step up. Maybe a '69 Z28, or into a Corvette. Who knows? But, my point is whether it is furniture or cars we all desire better and more. Years ago I would go golfing with my Dad and a few of his old man friends. But one day we wheeled up to a house to pick up another hacker and I got the shock of all shocks. Turns out this guy lost his leg in World War Two. Now, this is in the mid to late 1980's and the guy still was wearing the original wooden leg he was fitted with. His house looked like it was from the old TV show the Munsters and I was told he never threw anything away. His appliances and furniture were all still there from when he returned from the war. Interestingly the only thing that he updated was his car and that was not saying much. The golf balls he used appeared to be from pre war. We used to kid him that the feathers would come out someday of the golf balls. The guy was an engineer and a nice guy. However, he was odd. His home was something I had never seen for myself. I pitied who ever had to clean this place out after his death. In his basement he had magazines and newspapers from floor to ceiling with one little pathway to walk through to get to the steps. I asked him about some of these odd things. He told me he worked hard for what he bought and could not let go of them. I let that conversation drop.
So, please stand back and ask yourself what muscle car you want in this world and how you intend to buy it. What do you need to do to get that dream classic car? If you want it bad enough my friends you will be happy in your work and earn it.
More Muscle Cars For Sale – http://fastmusclecar.com/muscle-car-for-sale/
Donate To Fast Muscle Car
We spend a lot of time bringing you muscle car content. If you would like to donate something to help us keep going, that would be fantastic.