Best Muscle Cars
Thinking Of Buying A Muscle Car? Here Are a Few Things To Know
By
|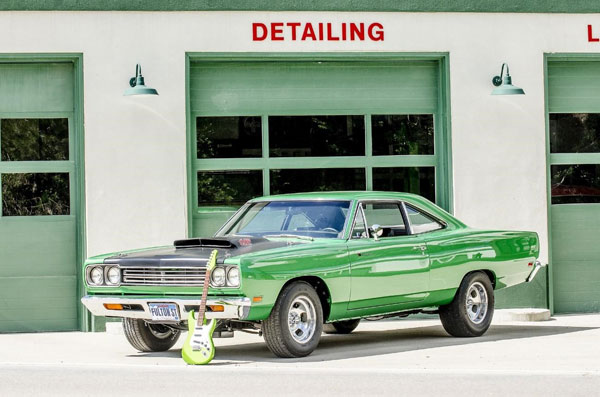 If you are one of those whose adrenaline is driven by ultimate horsepower and speed, the '60s and '70s was a marvelous time for you. This power-packed era produced some of the extraordinary muscle cars, packing huge toque rich V-8s. Now since we are moving towards environmentally friendly and sustainable mobility, muscle cars are tamed under these regulations. Even back then, vehicle emission regulations were tightening the noose around manufacturers. However, for all those enthusiasts out there, no need to be sad as there are still muscle cars available to buy, with new and old models to choose from, and get your hands on whatever you like. Indeed, there are things you need to take into account before buying this beast on four wheels.
But wait, before diving further, we need to establish what exactly a muscle car is? Going by the bookish definition from Merriam Webster dictionary, it is defined as "An American-made two-door sports car with a powerful engine." However, sticking by the description from a dictionary will not do as good as compared to picking the brains of car enthusiasts. The primary characteristics of the muscle car are that they were the 1960s and 1970s American coupes with massive high-performance engines with an emphasis on straight-line performance. With such a configuration, it should not come as a surprise that handling takes a back seat in such cars. That's why these were popular options in drag racing.
Ready? Here are a couple of things to keep in mind before you buy your first muscle car:
1.       THE CHALLENGE OF MAINTENANCE
One of the significant challenges is to keep your old and gold muscle maintained. It can be a tough job to keep a classic car in sound condition as the spare parts are outdated and hardly found. Having some electrical system necessary and carburetors knowledge can go a long way if you are planning to drive a 50-year-old car regularly. Tuning your vehicle at regular intervals like changing air filters, engine oil, and transmission fluid as recommended by the manufacturer, help reduce the chances of running into problems.  Also checking your exhaust system for potential leaks as it can also bring down your car's performance. When it comes to repairing, a whole lot of your burden can be lifted off if you can find a reliable auto repair shop that can handle all the problems. Wizard Werks auto repair provides services for a variety of European and import models, from tune-ups to collision repair, all the way up to engine repair.
2.       HORSEPOWER
It goes out of the way for any car enthusiast who is planning to buy a muscle car. Muscle cars are all about horsepower and can handle hell a lot of torque. But that's something you look for in trucks and SUVs. If you are not a race car driver, you probably do not need such a high horsepower coupe. For instance, the car Dodge unveiled as Hellcat, packs a whopping 707 horsepower supercharged V-8 engine, making it the most powerful muscle car in 2020. It's a better idea to go for half of that horsepower of Hellcat and try something of a medium sort like the 2017 Dodge Challenger R/T with 375 hp. This beast still manages to hit hard from 0-60 mph in 5 seconds. Therefore, know your budget so that you don't end up getting what you might not have needed in the first place.
3.       CLASSIC VS MODERN MUSCLE CARS
The answer to this is somewhat subjective, and they have their pros and cons. To list some, let's take a look at some pros and cons for each:
Pros of Classic models:
They are visually robust, making them look badass and the first choice for any enthusiast.
Less complex electrical systems and independent of control modules, making them easy to repair.
Cons of Classic models:
Their fierce look can prove to have no mercy in accidents, as they lack modern safety.
They can be pricey as a well maintained and adequately restored muscle car from the '70s can be hard to find.
Pros of Modern models:
Modern models are equipped with all the latest technology that we depend on in today's world, offering you more bang of your buck.
Better mileage and safer as well.
Comfortable for long drives and a lot suitable for daily drivers with handy, more accurate handling and stability.
Cons of Modern Models:
Late models can be harder to diagnose as they are "Drive-by-Wire."
They do not have cheap fixes. Because of proprietary software, one cannot always opt for the independent service center.
4.       POWERTRAIN AND SAFETY
As the saying goes, safety is no. 1 priority, do some research on how the transmission and brakes are functioning in the car. Does it have an airbag deployment system and advanced emergency brakes, so that you don't find yourself in a collision due to temporary distraction? Before going full throttle in your muscle car, research on the reaction time; how much time is required to come to a complete stop when going 60 mph.
CONCLUSION
In a nutshell, all these factors need to be taken into account when looking for a muscle car. Do your research, learn about your dream car, and the most important above all is to get insurance for it. Insurance cost is significantly higher, and alongside fuel economy and maintenance costs, insurance cost should also be included in your calculation. Eventually, it all boils down to that euphoric experience when you are cruising in your muscle car. It's an experience that is hard to replicate.
Donate To Fast Muscle Car
We spend a lot of time bringing you muscle car content. If you would like to donate something to help us keep going, that would be fantastic.