Best Muscle Cars
The Fun History of Chevy Muscle Cars
By
|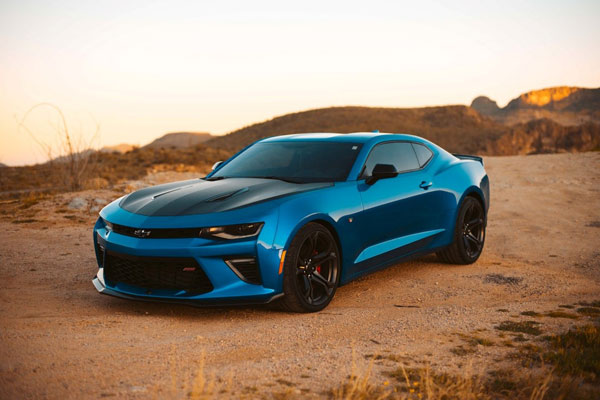 Chevrolet has a reputation of creating reliable and safe family vehicles, but they have a deeper history. Check out the fun history of Chevy muscle cars.
Chevy muscle cars are some of the most-loved classic American car models. They've been immortalized in our culture, from car shows to kids' toys. In fact, Chevy and other muscle cars are so beloved that there's an entire museum dedicated to muscle cars in Florida!
America has a rich car culture, but sadly, many car shows are canceled or postponed, for the time being, owing to the global COVID-19 situation. The good news is that this article gives you the same fun information you'd get at a show, so take a moment to relax and learn about the exciting history of Chevrolet muscle cars.
Chevy Muscle Cars Back in the Day
Chevrolet muscle cars have been around since the 1950s. They were an important part of the '50s and '60s social life, when cruising around the block was the coolest thing to do. Today, antique muscle cars are enjoyed as part of the era's greaser aesthetic.
Take a look at these fun facts about muscle cars of the past.
1950s Chevy Muscle Cars
The original Chevy muscle car is the Corvette, first introduced in 1953. Two years later, they introduced the now-legendary V-8 engine, which gave the following Corvettes and other Chevies power like cars never had before.
1960s Chevrolet Impalas and Chevelles
Chevy Impalas and Chevelles are among the most iconic 60s muscle cars.
The Impala made its way onto the scene in 1961, and its Super Sport package took the car to the next level. The kit included tools to make the vehicle sturdier, faster, and sexier, for under $60—that's about $500 today for premium features.
The Chevelle is a mid-sized model that now dominates muscle car shows. Interestingly, after it debuted in 1963, the Chevelle was released in a number of sizes, from a 2-door sport model to a 4-door wagon.
In 1965, Chevy introduced a new engine, the RPO Z16. Only 200 cars were built with this engine, believe it or not! Those lucky enough to own a Z16 Chevelle enjoyed improved horsepower and more control with a 4-speed manual transmission.
The Chevelle went out of production in the mid-1970s but paved the way for Chevy's future innovations.
Muscle Cars From the Last 50 Years
When you think about muscle cars, the first images that come to mind are probably out of the 1950s and 1960s. While the cars remain firmly rooted in their past, Chevy muscle cars were huge in the 70s and 80s, and are still extremely popular today.
Here are the basics of Chevy muscle cars from the 1970s until now.
Classic 1970s Chevrolet Camaros
One of the most well-known 1970s muscle cars is the Chevy Camaro. This model rolled out in the late 1960s and surged in popularity during the 1970s. In the late 70s, the Camaro sold like hotcakes.
In 1977, Chevy sold more Camaros than their competitor, Ford, sold off their Mustangs. In 1978, the company sold over 50,000 of the model—which was a huge number at the time and rivals numbers today!
Muscle Cars of the 1980s
In the 1980s, the Camaro was beefed up with Dana rear axels, and later, Australian Borg-Warner axel assemblies. These new parts guaranteed that drivers could take full advantage of their ride's power without worrying about their cars falling apart.
It's hard to imagine something like that now, but 30-40 years ago, autos were more powerful than ever before. Car manufacturers like Chevy had to figure out how to match the rest of their vehicles' parts to the mighty engines.
1990s Sport Trucks
The 1990s were all about being daring, and Chevy delivered. In 1990, Chevrolet started building Super Sport pickup trucks. The earlier models are more common on the road these days.
Trucks of all shapes and sizes in gas, hybrid, and electric models are available now, but the idea of a sport truck was novel in the early 1990s. Chevy dared to take that leap and broke ground for their following years.
Today's Chevy Muscle Car
Antique Chevy cars are among the most popular, well-known small muscle cars, but any muscle car fan will have you know that some of the latest and greatest models are on the market today. Some call them supercars—read these great facts to learn more about that term.
Here's some information about contemporary Chevy muscle cars.
The 2000s-2010s Chevrolet Muscle Cars
Chevrolet continued producing Super Sport trucks through 2009, and Chevy's classic sport models continued through the 2000s and 2010s. Through the 2010s, Chevy made forays into alternative fuel sources, which will impact the muscle cars of the near future.
Chevy Muscle Cars in 2020
Chevrolet has rolled out its 2020 Camaro, and it's getting good reviews. Not only does it have top-of-the-line safety features, but it also has all the power and speed capability that muscle car lovers expect from the brand, at a price that reviewers so far are happy about.
You might recognize some of the other models listed throughout this article, too, like the Impala and Corvette. These cars are available in 2020, too, so check them out if you're looking for a new speedy ride.
A Little Knowledge for the Road
Chevy muscle cars are an American icon, but most people don't think of them as anything more than cool-looking, well-made sports cars. Now that you know the history behind Chevrolet's line of muscle cars, you can entertain your family and friends by pointing out antique muscle cars driving by.
With many of us staying home for public health, car owners are taking maintenance into their own hands. Whether you're looking for tips to take care of your own car, to help others out, or are looking for other kinds of car information, we have you covered.
With all the car articles we have for you to read, you won't be bored anymore. Our site is an auto fan's dream, so don't pass this opportunity up!
Donate To Fast Muscle Car
We spend a lot of time bringing you muscle car content. If you would like to donate something to help us keep going, that would be fantastic.