Best Muscle Cars
The 2021 Ford Mustang Mach-E: The Future Of Muscle Cars?
By
|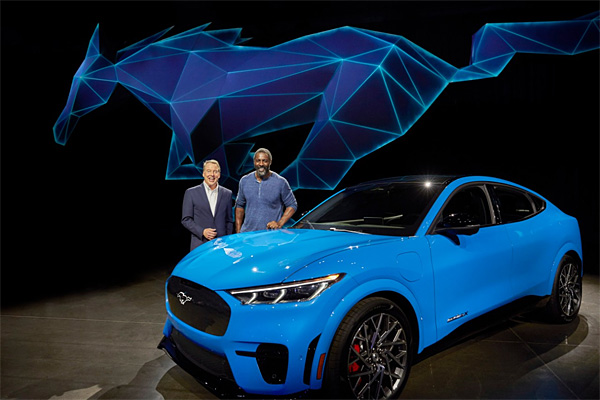 By Dave Ashton
Ahead of this years LA Auto Show, Ford have uncovered their hotly anticipated Mustang Mach-E. It's the first in a long line of planned electric vehicles from Ford's dedicated electric division, Team Edison. But, the idea here is not to just produce another electric crossover, but have its roots firmly placed in the Mustang camp. Hopefully, a nod to the past, with all the tech. anticipated for the next decade.
General Ford fans who don't have a vested interest in any type of pony or muscle car may like the fact that a future all electric crossover has some kind of muscle car pedigree, but dedicated muscle car fans will undoubtedly be not so buoyant. The terms muscle car and electric maybe the antithesis of each other, but unfortunately the world is headed in an electric direction and in this regard, it's better to keep up with the times than be left behind.
Before digging into the rights and wrongs of such a vehicle, we will give you a brief outline of what this new crossover thingy could provide, then see how much Mustang DNA has been transmuted or is it just a fancy pants EV with some pony badging.
The ins and outs…
The unveiling of the Mustang Mach-E isn't a one-shot deal as Ford are planning 16 all-electric vehicles by 2022. In other words, there is a firm commitment to push the technology forward and hopefully provide some of the essence that we would expect from a regular Mustang.
But, what about the actual driving credentials. Ford will offer a few models in the range, starting with the standard model called the Select, the Premium Trim, First Edition, California Route 1 and then a GT Performance edition, which is expected to have the most zest with an equivalent 459 horsepower, 612 pound-feet of torque and a 0-60 time of the mid-three second range.
Prices should start at $43,895 for the Select trim, with a $7,500 federal credit and comes in rearwheel drive. You can get all wheel drive for another $2,700, with both versions providing a 230 miles range. The middle ground, limited First Edition should start at $59,900, with all wheel drive, a 0-60 time in the mid-five second area and a 270 mile range. While at the top of the heap. The GT performance will start at $60,500 with a 250 mile range provided from a 98.8 kwh battery pack. As expected, lots of torque and should provide loads of power.
All models will come with three driving modes, which will consist of 'Whisper', 'Engage' and 'Unbridled.' Each driving mode will have its own set up, like specific steering, along with fancy internal lighting. The models will also feature the usual slew of tech., Like a 15.5-inch infotainment screen, running the likes of Apple CarPlay and Android Auto. There is also going to be a home charger available in both 120V or 240V variants. There will also be access to the FordPass Charging Network, which states that the batteries can go from 10 to 80% charge in around 40 minutes.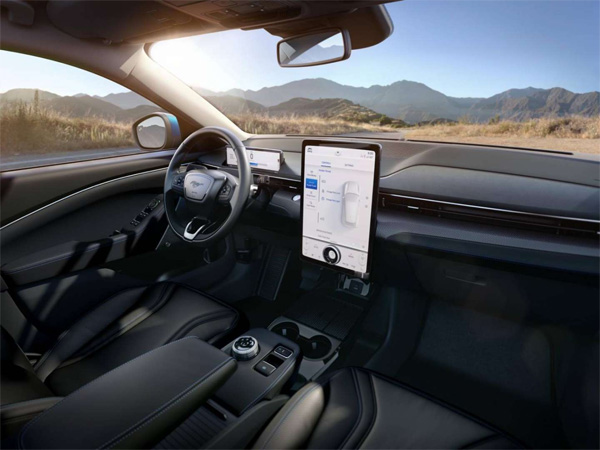 As for interior space, with all seats folded down and using the disconcerting, front trunk(don't call it a 'frunk'), there should be 60 cubic feet of cargo room. Apparently more volume than the Audi e-tron SUV and the Jaguar I-PACE.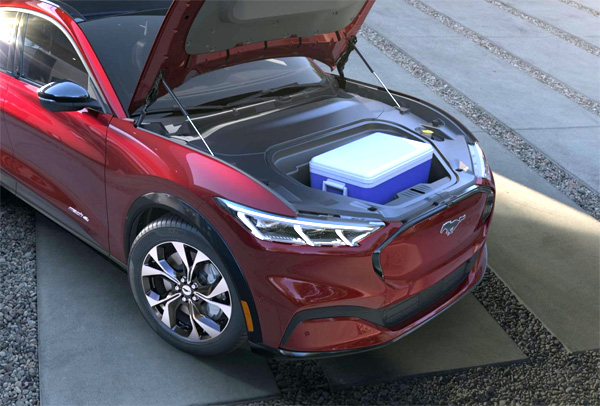 As for the overall styling, there is not so obvious feature in that the car doesn't have any door handles, either inside or out. Instead, the doors open automatically, which should result in easier access and also better aerodynamics outside.
The outside lines have clearly taken notes from the current Mustang. The same sort of grille and headlight design, just made more bulbous to fit the crossover mentality. It's actually a good-looking machine, with no hint of any blue ovals, just a Mustang badge front and rear, just in case you didn't know this was based on a Mustang.
Overall impressions
Clearly, a Mustang badged SUV is going to attract more attention than just a plain EV crossover. In reality, it's only a Mustang in name, with the added 'Mach' bit to give hints of a past era. It has all the hallmarks of a potentially good SUV, lined up against rivals such as the Tesla Model Y. But, having an electric SUV with a Mustang name, is still a bit jarring at these early stages.
Probably 10 years from now, no one will bat an eyelid over electric vehicles having classic performance car names. But at the start of the journey, Mustang and Mach still denote raw V8 power and all they represent. So, this could be the best EV crossover ever made, but muscle car fans will still be shaking their heads, saying this isn't a proper Mustang, until we get used to the idea.
Just don't take away our precious V8's too soon or we will put some strongly worded comments on a blog somewhere.
Donate To Fast Muscle Car
We spend a lot of time bringing you muscle car content. If you would like to donate something to help us keep going, that would be fantastic.