Best Muscle Cars
Ford v Ferrari Movie: A Muscle Car Classic
By
|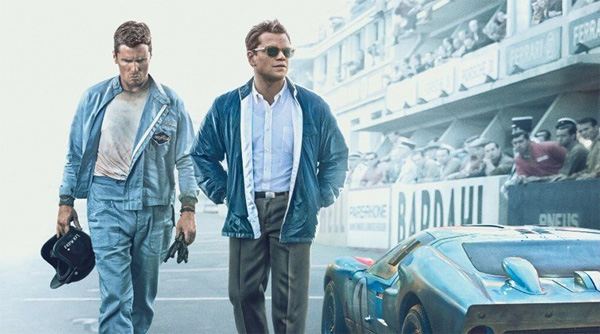 By Dave Ashton
For those who just have a passing acquaintance with the brands of Ford or Ferrari may think that this movie from James Mangold is just a telling of car fodder for the performance nerds. In other words, unless you know the back history already, you could easily pass off this movie as another docu-drama. However, like any good movie, the general attraction here is in the storytelling and the characters which is where the film definitely holds up.
From the off, you know there's got to be something to this showing when the likes of acting heavyweights Matt Damon and Christian Bale are the central characters. Carroll Shelby played by Matt Damon, opens up the movie during the 1959 Le Mans 24 hour race. Plenty to get you initially fired up for the journey ahead. Damon is then joined by Christian Bale who plays Ken Miles (test driver and co-developer of the Shelby Cobra, GT40 and Mustang GT350)
The essence of the story starts with Lee Iacocca (Jon Bernthal) a Ford exec., suggesting to Henry Ford II (Tracy Letts) they should get into the racing game to boost sales to a younger market. Iacocca employs Shelby and his English born sidekick, mechanic and racer Miles, to come up with something special. Not an easy route when the main players have such prickly personalities and counter objectives.
Although the movie is titled, 'Ford v Ferrari,' Ferrari isn't the main enemy here. The movie is is more about the characters overcoming their own differences and the obstacles involved in creating their own vision. This stands out the most with the constant interfering from marketing exec. Leo Beebe, who seems to do his utmost to divert Miles especially. Two eccentric characters constantly going up against each other is always great viewing.
Without giving away too many spoilers, the movie is more about the interaction between a singular vision and corporate meddlings, in a world where mechanical experience and know-how ruled. For such quirky personalities, there are tongue-in-cheek moments and clear stabs at the monumental task in hand, but the showing is more about the delving into each character rather than a nuts and bolts, technical walk-through of how they did it. Win the Le Mans 24 hour race that is.
Everybody likes the telling of a quirky genius who has a singular vision, but also susceptible to all human foibles and also has the odds stacked against them. In this regard, the film acts as a good overview history of the events, but more importantly a great storytelling of the characters involved and how following the corporate line is a constant battle at this level of the game. Definitely worth a watch for both car fans and non-believers alike.
Donate To Fast Muscle Car
We spend a lot of time bringing you muscle car content. If you would like to donate something to help us keep going, that would be fantastic.