Muscle Car
How My Shelby And Road Runner Lead Me Down Life's Path
By
|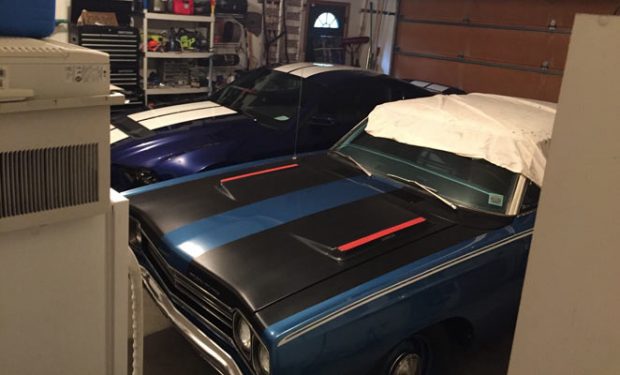 By Mark Weisseg
Behind my iron curtain at one of my garages lies two of my favorite cars. My Shelby and my Road Runner. They could not be further apart in technology and in comfort so why do I love them both?
Well, the RR was my high school dream car that I could not afford in high School so it stayed on my bucket list for a very long time.
The Shelby has also been on my bucket list for almost as long but not until recently did the fever really bite me. You see I have a Mustang already in another garage and have enjoyed that car very much. In fact, I love that other Mustang and miss seeing it every day.
That is why I am in the hunt for one garage to store everything in once and for all. It's tougher than I imagined but I may have found a solution. The solution may come from a great guy I had dealings with when I was working. He has a garage near my home that I will go look at here very soon to see if I can manage to put all of them except one in that secure space.
I need to keep one on deck for my use and if this deal happens all the others will be within a two mile drive. I have looked high and low for a safe, secure spot for my treasures and unless I remortgage everything I cannot afford to build a building close to home. The area in which I live is crowded and space is at a premium. My only other choice came down to two. One is one of those rental space centers that charge a premium every month and is owned by a guy that quite frankly turns my stomach. The second is a building I found in another town a good thirty minutes away. That will not suffice either.
So, yesterday I jumped in my '49 Chevrolet truck to visit two friends I had business relationships with until my forced retirement at age 54. They were the first guys I had seen since my retirement and I felt like a million bucks going to visit with them. It was just good to me around two guys I respected from day one. Trust me, I hope I exceeded there expectations when I serviced there account but you never really know when you are working.
I did not want to stay long as they are running a successful business and certainly do not need me interrupting the daily transactions. But, near the end of my visit the owner told me he has a storage building within two miles of my home. I knew he did but got the actual location fouled up so he enlightened me. He said he and I need to meet soon at this location and discuss the possibilities of letting me use this space to store my classics. Now, I always liked both of these guys but this gesture was above and beyond anything I ever could have imagined.
This brings me to my point finally as to why I am sharing a personal story. Owning both these vehicles, brings me in contact with many different people and inspirations.
You never know how owning a muscle car will lead you in the future.
More Muscle Cars For Sale – http://fastmusclecar.com/muscle-car-for-sale/
Donate To Fast Muscle Car
We spend a lot of time bringing you muscle car content. If you would like to donate something to help us keep going, that would be fantastic.