Best Muscle Cars
Muscle Car Track Days
By
|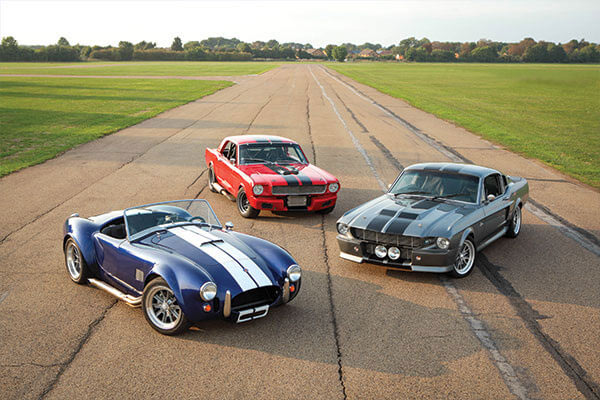 By Dave Ashton
If you don't have the budget or resources to buy into a vintage or modern muscle car, but you still want the thrill of the ride, there are still options. This obviously depends on which part of our little planet you live, with obviously America being the prime hotspot. But, what if you live in a not so muscle car orientated country and still want a spin?
Being based in Europe, we have our pockets of muscle car fan, dealers, clubs and meets, but it's pretty rare to be able to pop round to a neighbor's house and ask for a quick spin in their GT500 or Hellcat. One option available is to try out a muscle car track day. These are usually closed circuit courses and are advertised as 'high-speed blasts' over 3 miles. There do seem to be full day events advertised, but these don't usually include American muscle cars in Europe. More full-day track training or stunt experiences in European vehicles (easier to acquire and repair, etc.)
This means that an American muscle car experience isn't usually an extensive training day, but a quick taster experience of driving in what can be very tasty, dream cars. You may not get the extensive driving tuition, but on the flip side they are very affordable. For instance a three-mile blast in a Dodge Hellcat costs £39 ($49). The drive can be booked at many venues throughout the UK and have a few additional options like a high-speed passenger ride for an extra £10 or double the distance for £30.
The same website as the one I tried, there are a few other muscle car options which include a '69 Dodge Charger blast, Shelby Cobra, Pontiac Trans Am, Ford GT 40, Mustang 'Eleanor' GT500, Mustang GT350, Ford Shelby GT, a 'Fast and the Furious' Dodge Charger R/T, '69 Camaro SS and Camaro ZL1 blast. In other words, a nice variety of America muscle to choose from. They also have packages to try a few vehicles at once. Most of the American muscle car options come in at around the same price.
These track days are also a great way to taste or should I say get hooked on a particular vehicle before you slap down the cash on your own purchase. It's not just a test drive, it's a push the car to its near limits and see what they were exactly built for. Sheer, raw fun and the thrill of the ride.
Like all short blast track days, you will always be left wanting for more and hopefully that's the objective. Enough so you save up all those pennies to buy your own, or at least treat yourself a few times a year to a variety of 'blasts.' Either way, these are great value for money and should be sampled at least a few times in your life. Therefore, if you live in Europe it's a convenient way to try out a muscle car with a safety net, both new and vintage types.
There's no particular one website to recommend for these track days, as they usually book for multiple venues. The one I sampled was trackdays.co.uk.
Donate To Fast Muscle Car
We spend a lot of time bringing you muscle car content. If you would like to donate something to help us keep going, that would be fantastic.