Muscle Car
Muscle Car Talk: Racing Isn't What It Used To Be?
By
|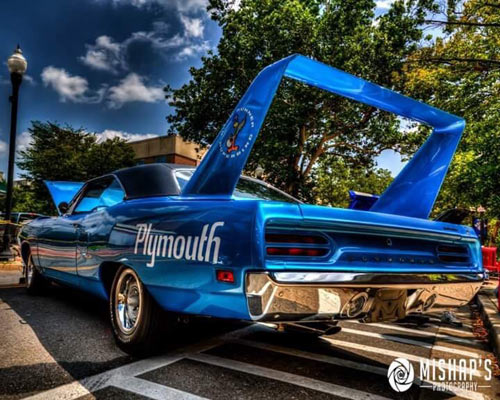 By Mark Weisseg
You all should know by now I love the Plymouth Superbirds even if many people still think they are ugly.
Back in the day when they were sold, many thought it was a goosed up Road Runner with a cone stuck on the front and a wing bolted on the rear. Not too far off I guess, but the car did go through a sales slump for a while back in 1970 and 1971.
Most people could not picture themselves going grocery shopping with a car with a big engine and a God awful wing on the back. It served no purpose for the daily commute and there were many that wanted it to go away until the car dominated NASCAR on Sunday's.
It used to be 'win on Sunday sell on Monday' back in the day because teams took say an Oldsmobile 442 to the track on Sunday. If they won, sales would be bumped on Monday. Then, NASCAR started making teams build cars that all looked the same but added stickers to them to look like cars we would drive. It bombed.
Even today, NASCAR's numbers are not what they were. I can tell you that because I was one of those fans who walked away. I at one time spent a lot of money going to tracks and throwing money around being ripped off from the hotels and food joints to the track themselves for what turned out to be boring racing.
I recall being at the Bristol race track for the evening summer race with literally 162 thousand screaming fans and the racing was great. I have been to Dover Delaware also where the racing was so boring people in the stands could and did lay down on the metal bleachers and fall asleep. I have been to Charlotte, Arizona, Daytona, Dover and Indy. I would not even consider going anymore. I also used to attend the Indy 500 at one time. That was an exciting race back in the day where the drivers were like rock stars. But let me not bore you with Nascars issues.
Go to a track and they cover up seats now, and all the drivers are so vanilla. The hall of fame museum in Charlotte has been a big bust since it opened. They have lost the core customer and make excuses for the awful races. But folks, back in the 70's and up until about 15 years ago racing was special. The cars were special. This Superbird so dominated the races NASCAR did change the rules that essentially forced the Bird out. Rather than get the competition to rise to the fight they seem to take the champ and tie his arm around his back.
Ever notice in the last few years a real nobody wins the pole at Daytona but then come race day they get creamed? Well, NASCAR provides the intakes and restrictor plates to all the drivers. Think if a nobody wins the poll it will be the talk all week how this unknown driver beat out the other 42 drivers for the pole. Then, race day comes and everyone is excited that the same four or five headliners might not win the race. But, they do in the end anyway. Smell a rat? Most people have years ago but who's gonna argue or fight NASCAR? Nobody of course.
So, it may be nostalgia, but let's get back to some of the old ways of racing. Let's look at what was a big hit in the past. You never know, it may just work today.
More Muscle Cars For Sale – http://fastmusclecar.com/muscle-car-for-sale/
Donate To Fast Muscle Car
We spend a lot of time bringing you muscle car content. If you would like to donate something to help us keep going, that would be fantastic.