Muscle Car
The Importance Of Muscle Car Maintenance
By
|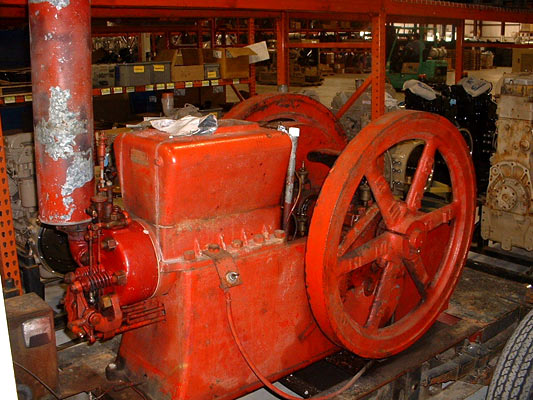 By Mark Weisseg
This 1920 Cummins Diesel engine was discovered years ago by a guy in Marietta, Ohio and it may be the only one left we know of.
When I was working for a certain company they acquired this engine, they had an in house technician restore it and it ran all day.
It ran when it came in like this and now runs as needed. The point is if you take care of any engine no matter what it's age it can and should run forever, to a point.
This old baby is very simple and was used on a farm we were told. I will not bore you with a thousand details but I will focus on this engine and others like it that run for years after they were built. I will remind you engines like this worked very hard all the time. They did not get to sit in a warm garage overnight or turn off due to a holiday or a special event. They ran these engines hard 24/7. The secret was in the sauce. The sauce being maintenance. Whether you are the proud owner of a new Challenger with a Hellcat engine, or a '68 Corvette with a small block, certain actions are required by you to make an engine run forever.
When I was spinning wrenches for a living, I pulled in a Chevy Impala once and the engine was a bit hot. Of course the owner wanted an oil change and some other items performed. I took the drain plug out and nothing came out the hole. Nothing.
Well, my first thought was somehow this guy got lucky in that the oil is so low that there is not much to come out. It was all on the top side or in areas of the engine. Dropped the car down to the ground and sure enough the dipstick says its full. Put the car back up in the air, look in the hole and sure enough the oil is now a solid. Solid as a rock. After much use of engine cleaners, kerosene, yes kerosene we managed to finally get some oil out. We recommend dropping the pan and pulling the valve covers but the owner refused. We put new oil in and a new filter on it and backed it out. Lifters tapping away.
We discovered the oil had never been changed and the engine was closing in on 40k. The excuse? He was busy. Later we found out he traded the Chevy in on a new Chevy and that Impala went on the used car lot. Oh my goodness gracious, as Mom would say. A simple oil change and that engine would have run 300k and more. I wish we could have pulled the oil pan and valve covers just to see it but somebody bought this car soon afterward.
Simple maintenance jobs such as changing the oil, oil and air filter and plugs can make all the difference for the longevity of an engine.
If you can't remember when you last performed these tasks, check them this weekend and made no excuse.
More Muscle Cars For Sale – http://fastmusclecar.com/muscle-car-for-sale/
Donate To Fast Muscle Car
We spend a lot of time bringing you muscle car content. If you would like to donate something to help us keep going, that would be fantastic.