News
Galen Govier Tag Service Review.
By
|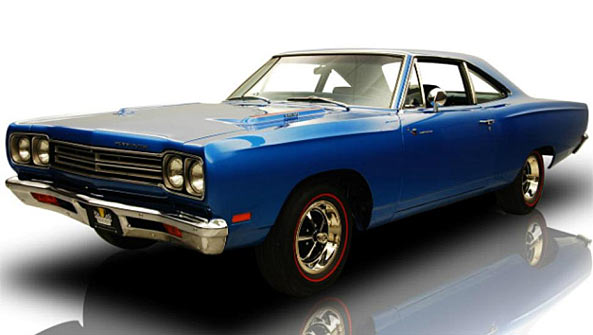 By Mark Weisseg
After buying my 1969 Road Runner, I thought I would try out the services from Galen Govier.
Galen Govier is highly respected in the Mopar world, having amassed tons of data over the years on all the Mopar range, making the service an almost one-stop shop for Mopar authentication. So, I thought I would try out the service. I got the idea because I had a Marti report done on my Mustang last year, so thought I would give this one a go.
I checked out the website and did some initial research to see what other people thought of the service online. I already knew the reputation of the service, so I went ahead.
So, late last year while the car was covered in my heated storage garage, I sent an email to Galen Govier to get a registry letter on the car. I believe it was fifteen dollars to register the vehicle.
I emailed and called them several times, until one day a nice lady from the office called and said what I really should do on this car is spend an extra ninety nine dollars and get a complete review of the VIN and fender tag. That seemed fine to get a detailed appraisal of the Road Runner, so I agreed.
I waited. I Email them several times and called, but it always went to a phone message on their answering service. Hmmm.
At this point, it started to get a bit frustrating as like anybody who tries to contact somebody many times with no reply. The other odd thing was they didn't cash my cheque either, so although I had not been charged, I didn't receive any information either, a bit like being held in limbo.
Then, weeks later, out of the blue, I got a call from the nice lady, asking me to take clear pictures of the Fender tag and the VIN plate and email them to her right away.
Time goes by some more and then another call.
She has good news and not so good news. She says it is a matching numbers car, so I did buy the real thing but, there were two items I needed to be aware of. The first, that the Phillips head screws that hold the fender tag down are wrong. They are too big. Who ever restored the car used screws a little bit too big.
The other issue was the fender tag. A reproduction of the original tag. Who ever restored the car made a new fender tag.
Ok, I can live with that, no big deal but, here comes the bomb. There is a code on the fender tag that should not be there. Who ever made the tag added one or two digits that really should not be on there. I asked her which one was wrong and she couldn't or wouldn't tell me. She then said she would do some further investigation to see who actually restored the car.
After the call, I did some research on the two screws for the fender tag and to me, it's almost impossible to tell the difference between what they say is the right size screws versus what I have on there.
Two days later she called and said she found out who did the restoration. I asked who? She would not tell me anything other than Galen knew this guy and he does great restoration work. I asked where he was located? She would not tell me.
She told me the guy does great work and it took him nearly a year to restore the car before he took it to auction.
She then stated the guy who restored it bought it from a guy who had it about twenty five years. The restorer said there was no build sheet when he purchased the car to restore it. (I hunted for a build sheet) Fine, but still no name.
The plot thickens.
So, now I know the car was restored by a respected car restorer in the southern United States, but no name. (maybe it's just protecting the restorer's name, I can only guess.)
The fender tag has an issue as per the screws (the two small Phillip head screws are too big by an eye lash) on the fender tag, but no information on that either.
After a few weeks of trying to communicate, I heard nothing.
The good news: the car was restored by a professional that is respected by Galen. It is a numbers matching Road Runner that was restored to a high standard.
The bad news: they haven't told me who restored the car, what has been added to the Fender tag and why bring up the issue of the two small screws.
The results, I have an emailed copy, but not a hard copy of the results. I also have not been charged for the service, but the process has taken months. I have some information, but not everything and I cannot figure out why some information was withheld. Just tell me, what's the problem?
The biggest frustration was the months of back and forth.
Thus, this service is highly respected and one of the few for Mopar owners, but in my experience, the turnaround time and sporadic communication was the big downside.
Reading between the lines, they must be swamped with inquiries and some people will fall through the net.
They didn't provide all information, but up to this point, they have neither charged me for the service.
The reputation and potential of the service is obvious, but you have to plan ahead like you do for Christmas, months in advance and be prepared to do lots of chasing up and you may not be provided with the whole story at the end.
My car is fine. It has matching numbers and all I wanted was verification.
The reproduction tag is common with cars 45 years old plus, so I am ok with that.
This article was a hard one to write as the service is very respected, it was just a highly frustrating process.
Thus, the service has the knowledge and information, just be prepared to have a long wait, and lots of chasing up to find your information.
More Muscle Cars For Sale – http://fastmusclecar.com/muscle-car-for-sale/
Donate To Fast Muscle Car
We spend a lot of time bringing you muscle car content. If you would like to donate something to help us keep going, that would be fantastic.
Galen Govier Tag Service Review.

,