Video
Watch A SRT Challenger Take Out A Audi R8 V8
By
|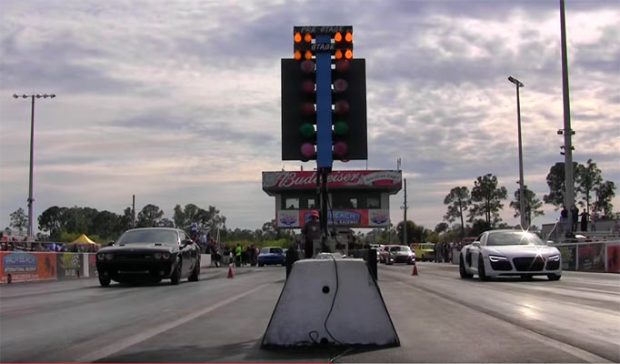 By David Ashton
If there is one thing we like to see here at fast muscle car, it's a pure bred muscle car taking on a European equivalent and beating it to the lights.
This drag race features a Dodge Challenger with a 6.1 L Hemi V8, with upgrades including forged internals and a 76 mm turbo.
The Audi features a 4.2 L V8 with modified tune and exhaust.
The Challenger is the heavier vehicle, but the Audi R8 should have a better power to weight ratio. However, when the Challenger wins this race at 10.35 seconds @ 135mph it proves even for the short term, that muscle cars still rule the dragstrip.
More Muscle Cars For Sale – http://fastmusclecar.com/muscle-car-for-sale/