Muscle Cars
Be Warned Of Your Speed In Your Beloved Car
By
|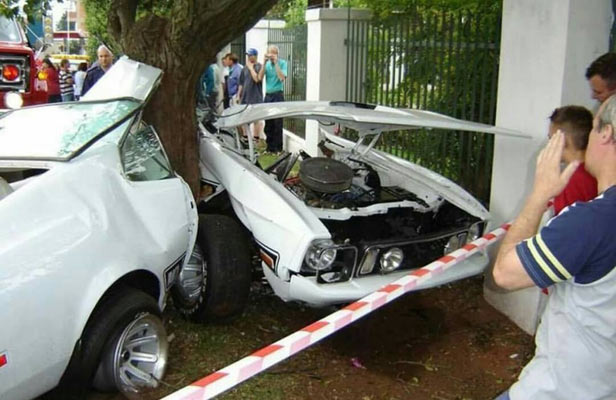 By Mark Weisseg
Jeepers when I saw this picture I thought at first it was two cars. I looked closer and found it almost was two cars. It is hard to imagine what happened here but one thing is very clear. Speed was an issue.
Nothing could wrap itself around a tree like this unless it was going fast. Now, here is my old man warning. It applies to everyone but especially the folks in the snow belt. We are in the waning weather days of classic car enjoyment this year. I have begun that miserable task of prepping my vehicles for the winter.
In the meantime I am driving them all as much as I can. I dread putting them away. But, last evening I was on a regular four lane highway and in my mirrors I could see a motorcycle coming up on me. The driver was hunched over like only a young person could. The driver came on to me with unbelievable speed. In mere seconds that bike went by me like lightening. Gadzooks I thought.
I will assume it was a young male for this story. He went by me at least 120 mph and that might be short. This is on a major road with many businesses and traffic lights. If anyone would have pulled out this driver would have seen his maker. I was stunned by the speed.
I admit I have done stupid and foolish things before in a car and maybe on my bike years ago but nothing to this level. In a very short time the bike was out of sight. Either he embedded himself into something else for eternity or just got lucky. Anyway I wheeled into my driveway and thought how stupid he was.
I recall last year about this same time we had a rash of bad accidents on bikes and hot rods. Guys and gals but guys for the most part are driving there machines like they will never drive again. I guess they desire that last great ride before putting the vehicle away for 4 months or so. But, if they continue down this path they won't see next year. I hope I made my point.
I have hot rods and a few of them are incredibly fast. It's fun to go fast but there is a time and place for everything. Please, please think before you get those last fleeting moments out of your system. Everyone wants you around next year. If I even get one person in the world to agree with me I have done my job.
For all you gear heads that do not face winter I pray you think hard as well. Did you ever really stop and think what your wife, girlfriend or even hamster would do without you? It's forever folks so please take it down a notch.
More Muscle Cars For Sale – http://fastmusclecar.com/muscle-car-for-sale/
Donate To Fast Muscle Car
We spend a lot of time bringing you muscle car content. If you would like to donate something to help us keep going, that would be fantastic.
Be Warned Of Your Speed In Your Beloved Car

,