Muscle Cars
Wagon lovers, Ho!
By
|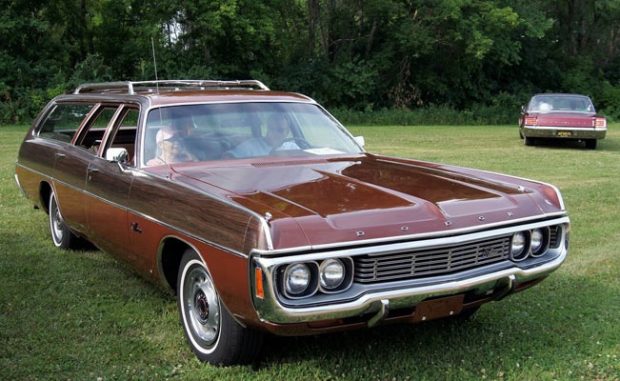 By Mark Weisseg
You wagon lovers know who you are. It's okay, today you are allowed to say you love station wagons and nobody blinks an eye. Take a look at this beauty of a wagon.
A big Dodge and I mean they were big. If you sat way in the back in that so called 9th seat you almost needed a two way radio. We used to call dibs on that last seat so we could stare at other drivers and make rude faces. Dad and Mom were at least 80 feet away from us so we were safe. Usually it was boiling hot back there or freezing cold as the seats were so far from the vents you never felt it.
Now the big Dodge loved that 360 engine, and the 440 engines. Dad opted for the 360 as he felt it had plenty of power and did not go through gas like a camel at the watering hole. We love the fake wood siding and ice cold vinyl seats in the winter or the skin stuck to them in the hot sun. It had turn signal indicators on the fenders so if you were too stupid to remember that you just moved the lever up you were making a right turn. Then, there was always that lost soul who left his blinker on for fifteen miles after the turn even though the dash was blinking, making a dinging noise and the fender was blinking.
We had luggage racks in ours as well because once we loaded in the circus of a family the cheap, beat up suitcases had to go above us. Dad used enough rope to keep Houdini in place for a hundred years.
Back in the day it seemed everyone had a station wagon. Today it's all about SUV or CUV vehicles and they are smaller. Drive on any highway and you will see these underpowered cars loaded to the gills on the roof and sometimes tied to a special rack on the back.
When we towed our pop up camper with the wagon power was not the issue. The issue was we must have looked like a UPS truck coming down the road packed for Christmas. But, we had fun as a family and the cars were reliable.
It's only been the last few years that the wagon has made a comeback at the car shows and I love it. You could haul people and things with ease. I remember going to the lumber yard with Dad and folding down all the seats. He then would stuff that back end with 2×4's or wood paneling and have no trouble at all. We at times would take the wagon to the drive in movies too. Back into your spot, seats down, and get the pillows and blankets out and watch woody woodpecker cartoons until the Godzilla flick started.
All great memories unless it was a car you had to use for a date. I made sure that embarrassment never got me. No way was I driving a train on a date. I got my own wheels for that process or I would be laughed and bullied right out of school. So, drag the wagons out of the woods, shine up the fake wood, clean up the cheap vinyl seats and lets love the wagon again.
More Muscle Cars For Sale – http://fastmusclecar.com/muscle-car-for-sale/
Donate To Fast Muscle Car
We spend a lot of time bringing you muscle car content. If you would like to donate something to help us keep going, that would be fantastic.