Muscle Cars
Checking Out Cool, Old Muscle Trucks
By
|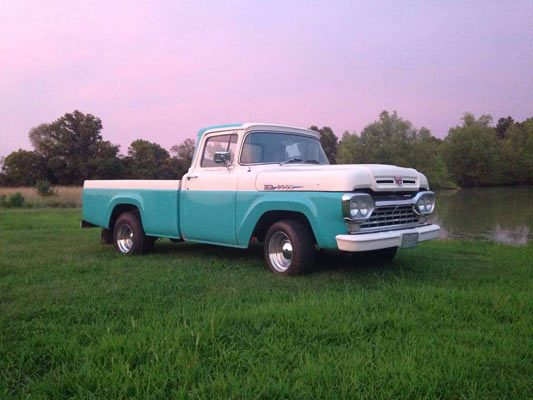 By Mark Weisseg
If you have come out from under the rock this year you should have seen trucks are red hot right now. Really hot.
Watch the auctions, look at the Internet classifieds, or any other source. What once was a truck now is a hot rod. I have owned trucks for years and used them as work trucks. You know haul the stone, help someone move, plow snow, haul crap and more. Now trucks from the 50's to the late 70's are smoking hot. Especially long bed trucks for some reason.
Yes, you can drop almost any engine in there but originality is finally king. Survivors are getting good money too. Three years ago my brother and I were walking through a car show and we stopped to look at a 71 Ford F100. I pointed to the truck and told him to watch these soar soon. He asked why of course. My hunch was everything else has had its turn. It's time pick up trucks get into the action. My mistake was not acting on my own hunch.
Yes, I have a daily driver truck and you may have seen or heard of my '49 Chevy truck. Last season a young guy parked his survivor Ford right behind my Chevy. We had large crowds all night as the patrons loved the two old survivor trucks. Yes, there were better trucks there with chrome everything and huge power plants but our trucks could relate to the every man or woman.
All night long we heard how my Dad had one, or my Grandfather drove one just like this and so on. I love my truck and if I lost everything I own, it's my Chevy truck that I would hang on to. My truck reminds me of a time long gone. Simple times, hard working men who used these. Trucks for work. Today's trucks ride like clouds, have all the creature comforts and more. My truck has roll up windows, no radio, a basic seat and a heater. That's it. But, I love driving it because you must drive it. No yakking on the phone, no texting, no distractions. No power anything.
I added seat belts for safety but that is it. Trucks are our backbone in this country. From the farms to the work trucks, we relied on them in so many ways. Today we still do but people buy four door trucks like we did cars. They are very expensive and have the best of the best.
One more example. Last Christmas we took my '49 to the local corner market that offers fresh cut trees. We wheeled in and I parked next to a brand new 2016 Ford truck. Four door with every option available. The truck was beautiful. The owner of the rig and his kids make a B line to mine. While they were drooling and enjoying my truck I was looking at his new rig wishing I could swing 60k for a truck like his. Yet, here he was looking at mine, wanting to sit in it and generally loving an old 49 Chevy. Weird world at times. Gulp.
More Muscle Cars For Sale – http://fastmusclecar.com/muscle-car-for-sale/
Donate To Fast Muscle Car
We spend a lot of time bringing you muscle car content. If you would like to donate something to help us keep going, that would be fantastic.
Checking Out Cool, Old Muscle Trucks

,