Best Muscle Cars
Versace Are Selling Ford Hoodies For $1,872
By
|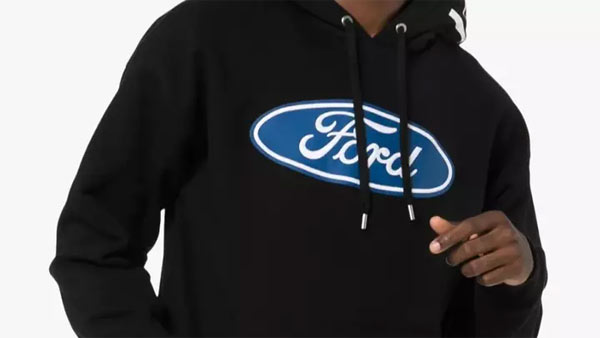 Credit: Versace
By Dave Ashton
What happens when the ultra-fashion conscious, who are also Ford fans(not needed), want some extra bling in their life? The answer is a Versace hoodie of course. But not just a hoodie, the high-end fashion house have also released Ford branded T-shirts, footwear and some rather smart pantalettes.
The high-end threads were originally shown off at exclusive catwalks earlier in the year, but they clearly missed a trick as there wasn't a Ford Focus in sight to add to the street-like appeal. Well, that didn't matter as car hoodies are now the new black and you need to buy one of these exclusive items if you want to stay on trend. Problem is, they're not that exclusive and you have to stump up $1,872 for the privilege.
'Versace's collaboration with motor company Ford was inspired by 'the excitement of buying your first car'. They utilize the signature Ford logo to reflect emotions of joy and thrill. Made in Italy, this back cotton x Ford logo print hoodie from Versace features a hood with a contrast printed logo in the rear, dropped shoulders, long sleeves, a central printed Ford logo, a kangaroo pocket and a ribbed hem and cuffs,' say the website FarFetch.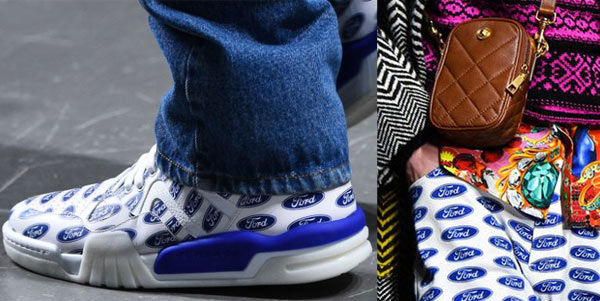 Fancy one of the T-shirts? Well that will cost you $667 and the smart Ford pants will cost you $1,613.
You may already be thinking, why don't I just buy an official Ford hoodie from Dearborn and be done with it? How dare you….. Versace have superior stitching, it's made in Italy and has a whopping Versace logo on the head, bigger than the Ford logo itself, just in case you forgot who made it.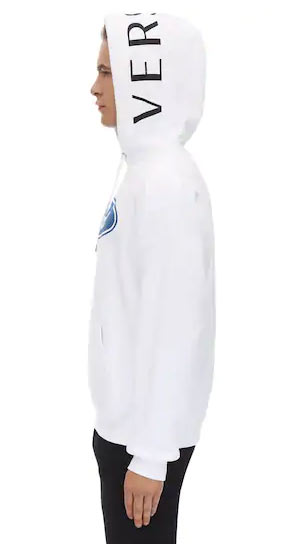 Clearly, if you have the disposable income and want the extra street cred., why not buy one, but for the rest of us it's a bit 'Emperor's new Clothes' situation. It's everyday casual wear dressed up as high-end fashion with a corresponding price tag. Checking out Ford's own merchandising site you can buy a hoodie for $29.95 with a smart, retro Ford logo. These hoodies have the exclusive features of being stitched by highly skilled, beer drinking Americans and made from tough cotton for wiping down oily hands….
There's even some smart looking Ford socks going for $11.95 which I might grab a pair of, not because I'm a Ford fan, just because I'm running out…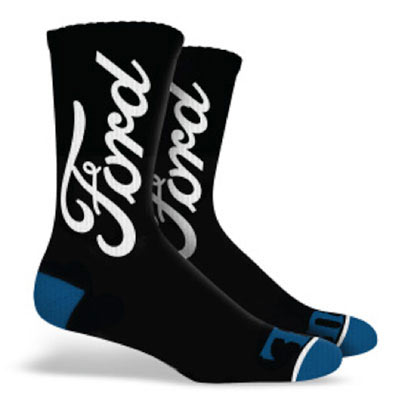 The other problem for the average guy/gal is should I spend that money on a hoodie that will last me six months or some tasty parts for my car? I think most would have already resolved that answer….
Which brings us to who should be buying these Versace/Ford threads? I think all Ford's racing teams should be kitted out in such apparel. The next time you watch Formula One, the pit crew should stand around like veritable Derek Zoolanders throwing out 'Blue Steel' whenever a camera lens wafts in their vicinity. Pit stops may take a few hours each, but wouldn't they look fabulous……….
Get the Ford Hoodie from here in the UK and here in the US.
Buy the Ford Versace T-shirt thingy from here.
Donate To Fast Muscle Car
We spend a lot of time bringing you muscle car content. If you would like to donate something to help us keep going, that would be fantastic.