Best Muscle Cars
The World's Fastest Ford Mustangs
By
|
By Dave Ashton
When tasked with finding the world's fastest Ford Mustangs, I thought this would be an easy job. Firstly, consult the Guinness book of records for any official entries, then job done, easy. Well, The first hurdle was the only entries for a Mustang were 'Largest Parade of Mustangs' and 'the most virtual signatures on an electronic greeting card.' Nothing with the words 'fastest' or 'quickest.'
So, with no official speed entries, it's down to strictly unofficial records. The next bunch of caveats, the fastest off the line, fastest 0-60mph, fastest top speed, fastest over a quarter mile, fastest over a half mile, fastest over a mile, fastest stock or mod'ed. The list goes on and on…
So, with most of the headlines of 'Fastest' this or that, here's is a sloppily put together list of some of the most potent Mustang muscle cars out there. These are either the fastest in the Mustang community or claim to be the fastest in a certain category. As a side note, the 2020 Shelby Mustang GT500 promises to be the most powerful production Mustang yet, but we will have to wait and see how this beast performs.
Fastest Manual Ford
Housing a 4.6-liter 4V Mod motor, now with Precision 62mm turbochargers, the 1998 'TT Minion' Mustang can produce 1,500 horsepower and do a 7.92 second quarter-mile at 180mph, all with manual shifting. Is it the fastest in the world? Who knows, but it's up there.
Fastest Quarter Mile Drag Radial Car
A quarter-mile time in 5.92 seconds at 250mph on drag radials. This thing has a Proline 526ci. V8 with two 94mm turbochargers.
Fastest none street-legal production Mustang
This honor goes to the 5.2L Ford Mustang Cobra Jet for the 50th anniversary of the Mustang. Only 68 of these were built and although not street legal, they can hit the quarter-mile in the mid-eight seconds at 150 mph. With a little helping hand from a 3.0 litre Whipple supercharger, it's arguably one of the fastest production Mustangs around.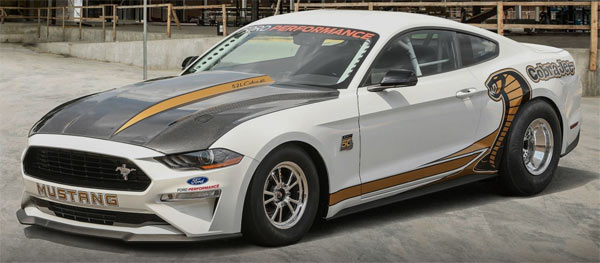 Fastest quarter-mile from Drag Times
This quarter-mile time was recorded over at Drag Times for a 1969 Mustang driven by Bill Sexton. The pass was recorded on March 15th, 2004 at 6.860 seconds at 204mph. The engine is a 712ci. Pontiac with a 2 Stage Fogger nitrous kit.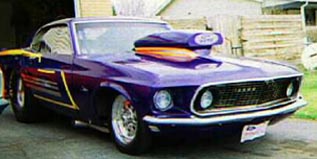 Fastest Shelby GT500 Mustang
This video of the 'The Devil's Reject' Shelby GT500 Mustang gives a claimed 6.76 seconds @ 206mph in the quarter mile. It certainly has the goods with a 5.8liter/349.ci. aluminum block with 2,200 horsepower with help from a Precision 94mm turbocharger.
Fastest S550 Mustang with IRS
The fastest S550 Mustang with independent rear suspension seemingly goes to a 2017 Mustang GT by Sheldon Lewis of Straight Performance Racing. The 7.9 second run at 179 MPH was done with a SPR Built Coyote Engine, 88mm single turbo system and Powertrain Specialties TH400.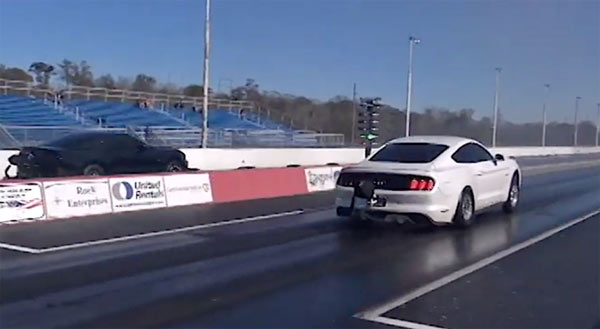 However, here's Jordan Weir with his 2015 Mustang that rocketed to 245.1 mph at The Texas Mile in early 2017. Over 2,000 horsepower comes from a Trinity 5.8-liter engine with two 76mm Borg-Warner turbos and 2013 GT500 intercooler.
Fastest production street legal Mustang
The 2013 Ford Mustang Shelby GT500 sure has some potent power under the hood with a supercharged 5.8-liter 32-valve V8, producing 662HP. This comes out at 3.5 seconds for a 0-60MPH time and a roundabout 11.8 second quarter-mile time. The GT500 also has a claimed 200-mph top speed.
Shelby GT350 Half Mile World Record
A best pass of 193.5 mph.
This is not an exhaustive list, but will hopefully give you a small insight into some of the fastest Mustangs around.
More Muscle Cars For Sale – http://fastmusclecar.com/muscle-car-for-sale/
Donate To Fast Muscle Car
We spend a lot of time bringing you muscle car content. If you would like to donate something to help us keep going, that would be fantastic.
The World's Fastest Ford Mustangs

,