Readers Rides
The Thunderbird Challenge
By
|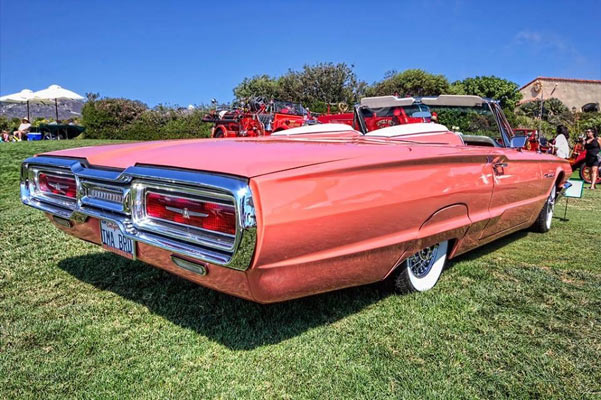 By Mark Weisseg
We all know the T bird has been around since the fifties and has changed so many times we have lost count.
They began as a two seater with little power under the hood and mainly relied on styling to get the sales. The car was a winner in the very early years and of course made a big circle, and today the originals are classics.
However, the T Bird also went through many years of boredom. They got bigger, bulky, and somewhat clumsy and sales softened. Ford did all kinds of tricks to get the bird flying again but it sort of just hung around and finally died off.
Then in the early two thousands as we refer to them , Ford reintroduced the Thunderbird and they made it look very retro hoping for a boost in sales. And they ( Ford) got it for a while as the public thought a new bird with some creature comforts was cool. Many were sold to the middle age crowd who didn't get a bird the first time through so now they could enjoy what they missed.
I have a friend here that bought two of them back I believe in 2004. He and his wife drove them sparingly and eventually they went into his storage garage or collection as we might say. I saw them earlier this year and asked what his plans were for the two birds and he just shrugged his shoulders. I got the impression these cars had some special meaning to them and they were here to stay.
I like the original T birds as classics but I can tell you they are not much fun to drive a long period. They are cramped in the seating area and again lack power. But, you do look cool when you are in them. The T birds of the mid sixties are very ho hum cars with not a lot of following. Yes, they were bigger and you had more room but they still were not a hot rod car. So, when they returned briefly in 2002 there was much hope that finally this car would have some horses under the hood and maintain the iconic look of a T bird.
As I said that run lasted only a couple of years and sales became dead flat. So, once again the bird was dead. But today classic car owners are starting to feel the love again by adding this car to the collections. Never meant to drag race or corner hard but they were made to cruise in style and everyone knows you have a Thunderbird. Good for you.
More Muscle Cars For Sale – http://fastmusclecar.com/muscle-car-for-sale/
Donate To Fast Muscle Car
We spend a lot of time bringing you muscle car content. If you would like to donate something to help us keep going, that would be fantastic.