Best Muscle Cars
The First-Timer's Guide to Buying a Classic Muscle Car
By
|

We all love our cars, but there's nothing quite like listening to the roar of a classic muscle car as you put the pedal to the metal and tear down the highway. There are plenty of options available on the market, from collector's pieces that look like new to project cars that will need a lot of TLC before they're ready to drive. That is, if you can restore them to street legality at all. It's easy to get overwhelmed and make a mistake or find yourself drowning in a sea of choices.
If you're looking to buy your first classic muscle car, here are a few things you should remember during the process.
Choose Your Seller
When you're buying a classic muscle car, the first thing you need to do is choose your seller. You've got three options to choose from, each with their own pros and cons — private sellers, dealerships and auctions.
You can find some great deals when working with a private seller, especially if you luck into a meeting with someone who doesn't know what they've got. There is also the potential for malice there, though, so you need to be careful and ensure you're getting the most for your money.
Auctions might have the best prices, but you won't have a chance to inspect your vehicle or take it for a test drive before you sign on the dotted line. Dealerships will be the most expensive, but you'll have a better selection and maybe even a warranty if the dealership has restored the car to its former glory.
Have the Vehicle Inspected
No matter what type of seller you choose, you should invest in a comprehensive inspection to ensure everything is in working order and there are no unexpected surprises waiting to sneak up and bite you. Choose a mechanic you trust — one who doesn't have any affiliation with your seller so there's no bias. If you're not sure where to start, hunt down a checklist so you know what to look for.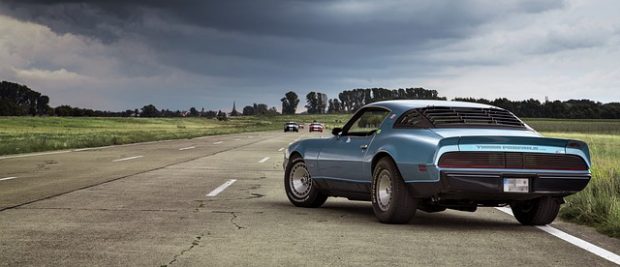 Don't Expect to Make Money on It
Classic muscle cars are an investment, but unless you're very smart or lucky, they're not generally something you'll make money from. Buy your first classic muscle car for the joy of owning and driving it. If at some future point, you decide you want to start flipping cars for money, that is entirely up to you, but your first classic car should be about the love of the automobile itself.
Think About Storage
If you're bringing home a classic car, the last thing you want to do is park it on the street or on your driveway — especially if you get your hands on a collector's item. Classic cars don't have all the fancy modern security measures you'll find on newer models, making them easier to steal. They're a popular target for casual car thieves. Those same thieves aren't looking to add breaking and entering to their record, so parking it inside will discourage most burglars.
If you're not going to drive your classic car every day, consider investing in a lift to get it off the ground. This will clear up room in your garage and help protect your car from humidity and other elements that could damage it.
Do Your Research
Buying a classic car isn't like going to your dealership to bring home the newest model. You need to do plenty of research — from looking up the previous owners to repair histories and even accident records. You can often do this by checking the vehicle identification number (VIN) or other identifying numbers and matching them up with the digits stamped into the engine block, transmission or sometimes the differential.
It might take a bit of time, but rushing through your research could leave you with a rust bucket that you'll have to keep pouring money into just to keep it on the road.
Enjoy Your First Classic Muscle Car
Hunting for your first classic muscle car might seem like a challenge with all the available options on the market, but taking a few extra steps can help you find the perfect vehicle to start your collection. Choose your seller wisely, avoid skimping on inspections and test drives and make sure you have a safe place to store your car to protect it.
Owning a classic muscle car is a rite of passage for automotive enthusiasts, so don't let all the options and the threat of malicious sellers peddling lemons scare you away from making that iconic first purchase. Take the time to search for the perfect first car to start your collection, and avoid buying the first vehicle that crosses your path. When you practice patience, the perfect car will come to you.
Donate To Fast Muscle Car
We spend a lot of time bringing you muscle car content. If you would like to donate something to help us keep going, that would be fantastic.