Best Muscle Cars
Bullitt: The Cars and People behind Steve McQueen By Matt Stone
By
|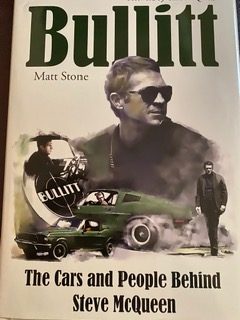 Book review by Mark R. Weisseg
As stated in the headline, this new book from Cartechbooks.com is all about the legendary movie Bullitt. The author, Matt Stone in addition to writing this book, is a thirty-plus year automotive veteran. He has written three previous books about Steve McQueen. The author also is a well-known photographer, broadcaster, journalist, and more. The forward is written by none other than Chad McQueen, Steve's son. The book is one hundred ninety-two pages long with over three hundred photographs. Including many that have never been seen before.
So, how did a movie with a ten-minute car chase become an instant worldwide classic? The author takes you back to the beginning. You will discover who the other actors were, why they were chosen for this film, how they filmed the shots, and where in San Francisco they filmed. And that is just for starters. The movie Bullitt was no easy task to produce. Steve and his production company worked tirelessly to make this movie. And make it they did. Steve had a reputation as a difficult guy to get along with on the set and Bullitt was no exception. The author examines the way Steve thought it should be done. He wanted the movie to be as authentic as possible. And, not just the famous car chase. He wanted everything to be just right. Thankfully, he got his way.
Now, the book is filled with many backstories. For example, who were the other actors? Why were they chosen for the role? How did the production company convince a large city such as San Francisco to do a wild car chase? You will learn so many inside "baseball" items that you may do what I did, watch the movie again. After I read the inside stories, I wanted to see it again for myself.
Of course, being a car guy myself, I wanted to know about the cars. Right? Of course! Did you know they used two different kinds of Chargers? They did. And, where are those Chargers today? And, the Bullitt Mustangs. Yes, plural. By now many of you know one of the Mustangs was found and sold at auction last year. The final bid was over three and a half million dollars. Not bad for a movie car. But what about the other Mustang used in the movie? The author took a deep dive into the history of the cars and drivers of these famous cars. And, you will not be disappointed in what he found.
For those of us that have seen the movie, we know certain things stick out. Like the Charger losing more than four hubcaps. Or, seeing the same VW bug at least twice during the chase. Yes, some continuity issues pop up in the movie, But who cares? We loved the movie for the actors, the storyline, and of course, the ten minutes plus of one of the best car chase scenes ever filmed. How did they do it,and what route did they take? Did Steve drive the Mustang in the chase scenes? It's all in the book. Those subjects receive a lot of attention in Chapter three. While you read this book, you will " feel the movie". Yes, you will better understand who Steve McQueen was and why this movie has endured. Steve did other great movies but this movie is his masterpiece. You say the word Bullitt at any automotive function and everyone knows who and what you are talking about. The movie is just that good. And so is this book.
To this very day, the McQueen legacy lives on. Ford still builds Bullitt Mustangs. There are automotive clubs all over the world that celebrate this man and this movie. The McQueen family has fully embraced this book as a testament to the legend we know as the King of Cool. All car chases are held to the standard in the movie Bullitt. Remember, this is long before Computer Generated Images were invented. This book explains details that are " inside baseball". I see certain scenes in a very different light now. Trust me, you will too. It's a very well written book that is an easy read. We lost Steve McQueen in 1980 due to stomach cancer. What we have not lost is the love for him and his body of work. Especially, the Bullitt movie.
This book from Cartechbooks.com can be ordered now and it would be a great Christmas present. Or, call 1-800-551-4754. Either way, you will enjoy this book. Kudos to Matt Stone for such an in-depth book.
Donate To Fast Muscle Car
We spend a lot of time bringing you muscle car content. If you would like to donate something to help us keep going, that would be fantastic.