Best Muscle Cars
7 things to consider when restoring a classic Mustang
By
|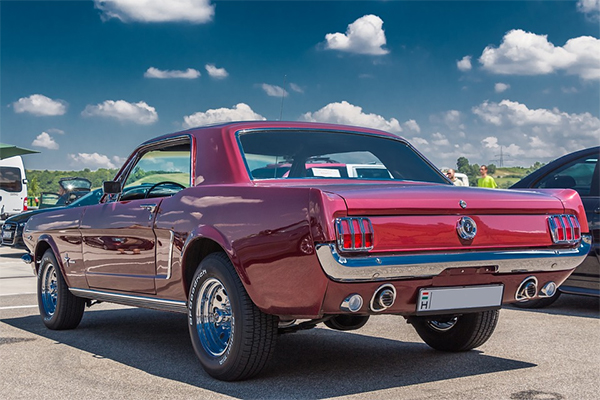 Who hasn't admired an old lovely classic mustang with its inviting interiors and head-turning exteriors and sheer raw horsepower and thought of owning one?
Well, classic mustang lovers, finding one and lovingly restoring it back to life means owning your dream car.
However, restoring a classic mustang can be both nerve-racking and exciting at the same time. The exciting part includes restoring your dream car to fit your personality and taste. Yet, it can be unsettling if the final product does not turn as you visualized.
Regardless of your motivation for restoring a classic mustang car, it truly is a labor of love. You need time, skills, and good Mustang car parts. 
So here are the top 7 things to consider when restoring a classic mustang.
Do you have a plan and a goal?
Restoring a mustang car needs a realistic budget, proper planning, real commitment, and brutal self-honesty. 
Write down a detailed plan with realistic and achievable goals. 
Follow a logical process starting with productive teardown, cataloging, and final detailing.
Never kid yourself that you can start a restoration process without a proper plan in place.
Lack of self-discipline and impulsiveness will cause your project to go off the rails. With unrealistic goals, be prepared to become emotionally derailed and disillusioned.  You will experience satisfaction when a restoration milestone is crossed.
Remember, if your spirit is beaten mid-restoration, getting back in the saddle becomes a challenge. So plan well and stick to your schedule.
The technical library
Regardless of whether the restoration project is DIY or being done by professionals, build a good technical library containing restoration books, magazines, and the owner's manual.  
The reproduction factory assembly manual book by Jim Osborn is a perfect example, and the Mustang Recognition Guide written by California Mustang provides great insight into the restoration process.  
These books will provide much-needed guidance, thus preventing simple mistakes or wrong assumptions that can cause significant issues leading to poor results. 
So, before undertaking any step, read, re-read, and refer to your technical library regularly so you are well-versed with the nitty-gritty of your mustang.
What type of restoration are you going for?
When restoring your mustang, have a clear vision of the type of restoration you want; some processes are cheaper than others. 
Understand your needs and choose from these four major types of a classic mustang car restoration:
Driver Restoration

– This is a basic type of enhancement car, and it includes restoring the mustang to an operational level. Under this level, you can fix minor cosmetic issues.

Street Show Restoration

– Under this level, the owner restores and makes the car operational again and fixes the major and minor cosmetic problems.

Show Car Restoration

– This is a level that requires professional repairs since your car will undergo major improvement and repair works. Once restored, the owner may display the car in classic car exhibitions and shows. However, you won't be able to take your mustang for long drives.

Concourse Restoration

– This the highest, most difficult to maintain, and the most expensive restoration level. This level is ideal for cars placed in exclusive classic and private collections auto shows. It's a restoration process project undertaken by professionals, and owners aren't allowed to drive the car.
Consider car part sources/upgrade of equipment
Ensure you have a reliable and genuine place you can source mustang car parts. 
Your car replacement should fit perfectly and, if possible, go for original parts. Using original parts is one way of making your mustang look as authentic as possible. However, they are pricey. Alternatively, reuse, refurbish, or repair the existing components.
Although you may use existing parts, it's advisable to upgrade and add certain gear with the newer, better versions.
First, you should upgrade the safety equipment to include airbags and high standards seat belts. Additionally, you may upgrade or add a radio, spark plugs, air filters, hoses, brake lines, electronics systems, AC, and other things that will make your classic car safer, more functional, and comfortable.
Personality vs. Originality
Well, while restoration purists would love to bring back the car to its originality, but for many Mustang lovers, it's all about a mixture of personality and own flair.
In case you plan on selling the mustang soon after restoration, you may choose to go strictly with originality from the exhaust tailpipe to the gear stick. Originality will surely fetch a higher price. But keep in mind you can be stuck  with the car for years before finding a buyer.
With this in mind, it's advisable to restore your mustang by injecting your personal touches to please you and not your next buyer. So, modify your mustang using your favorite design and colors that fit your personality over the car pre-assigned original appearance.
Mechanical considerations 
Assuming you have acquired a good fixer-upper mustang, found the right tools, chosen the ideal style and design, and have money and time to restore it from hood to trunk, it's time to consider the mechanical work required to restore it to a showroom shine and charm by dealing with:
Paintwork and body repair
Many old classic cars share a common problem; damaged bodywork and paint. Even well looked after mustangs tend to have faded paintwork and damages in the forms of dinks or rust spots.
For satisfying results, tackle the paint and body restoration work head-on. Avoid any shortcuts when it comes to restoring body panels and paintwork.  
Finish off your body panel work and dress it to impress by applying a ceramic coating to give your mustang stronger protection.
Remember, paintwork, and body repair work requires patience and resources.
When most car parts remain unused, they start to seize due to decay and corrosion.
For example, brakes may seize after staying unused, if the previous owner didn't fully drain the brake fluid before storing the car. 
As such, ensure you replace and repair the moving parts if your car was stagnant for over two years.
Your mustang car battery will go flat within four weeks and even less during winter without regular charging.
When buying a dormant car left in the storing yard for over three months, you will need to replace the battery and other electrical components.
Check out the car wiring systems as wires degrade over time, especially when exposed to moisture, and mice can also chew on internal cables. 
Exposed electrical components and wiring may cause short-circuits and system failure.
 The tiny details
In classic car modification, small details, regardless of how miniature they may seem, are significant in turning it into a dreamy, eye-catching ride. 
For example, putting the correct door-lock button will boost its appeal. Moreover, it will also help in avoiding certain inconveniences like having to lock the door manually.
Paying attention to the smallest details will ensure your restored mustang stands out.
So, ready to embark on a Mustang restoration project?
Embarking in a mustang restoration project is fun but please keep in mind setbacks will occur, so have a realistic view of how long and how much it may take. Be flexible and embrace the hiccups as part of the restoration project and incorporate them into your plan.
Enjoy the excitement that comes with restoring your mustang and the outcome but remember it should be a labor of love, so be in it for the long haul. It's tough but satisfying work.
Author: Ann Ritah
Donate To Fast Muscle Car
We spend a lot of time bringing you muscle car content. If you would like to donate something to help us keep going, that would be fantastic.