Muscle Car
The Classic Corvette
By
|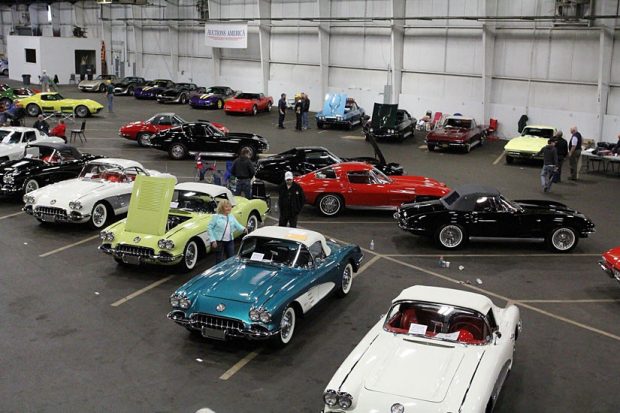 By Mark Weisseg
Whether it is a Corvette club or a Hudson car event I am happy. Some of you cannot stand a Corvette while others dream of owning one. I owned one and it was not my cup of tea, but that's just me.
It's my fault as I bought it from a friend with very low miles on it. The car was just sitting so I got a good deal on it. It was an alright car but nothing to rave about. Just recently I sat in a friends '63 as I love those mid year Vettes. But, being six foot three and two hundred and eighty pounds did not work. My head hit the roof and I had a hard time getting in and out of it. I was really ticked off for a few days as I really wanted to buy one. In fact, I would have done so already.
Now, I am turning my attention elsewhere for a while. I will at some point go sit in a 2015 or 16 and see how that works. But the point of my article is simple. No car in our history in my humble opinion gets so much press as the Corvette.
Will it have a mid engine soon? Does it handle like a race car? Why is the price so low compared to super cars from across the pond? That new Corvette for the money is a hands down a winner.
Now, I love all cars. I would buy a Peel, or a Messerschmitt in a heart beat just because they are different. But, Vette people stick together like Harley Davidson or Triumph motorcycle folks. I am biased toward the American hot rod but I love just about anything on four wheels.
I have lived through the Pinto, Vega, Monza, Mustang II And plenty more lemons. The Vette is an unique car from day one. I guess I could buy a mid year and try to place the seat further back and get a smaller steering wheel but I like them pure.
I saw a red on red convertible Vette the other day which was tempting. The lady that owned it said she thought I could fit in the new 2016 but never offered me a chance to try. So for now I have my collection without the Corvette but it's always on my mind. Not that my life will change but I do like history and this car has it.
Ironically I like the styling of the 78 to 82 models but let's be honest, the engines were dogs. Emission laws choked them off and they became awful. As I look at this picture I am drawn to the red one in the photo. It just is a bad ass looking car. But, in life you don't always get want you want according to the Rolling Stones song.
For now if I want a horsepower nudge, I fire up my Shelby Cobra and I am as happy as can be. Someday, I will sit in a newer Vette and see if I can drive it without pain. But I want to wait a bit until they get a few years behind them. But that red on red convertible really sucked me in that evening. But with me that can change in an instant. Call me nuts for wanting a Peel or other micro car and I am ok with it. I owned a Nash Metropolitan for a while and that car was a people magnet. Everyone loved that little car and I felt like it was a clown car when I got out of it. My hope for a Peel may come from someone across the pond that has better access than I. Heck, I even like the old Vespa scooters! When you are in our lifestyle please do not limit yourself to loving one kind of car. The list is endless for the odd, the small, the big or the unusual. Buying a 57 Corvette is exciting but open your eyes and ears and you might be surprised that the love for our cars runs in many directions. Get it? Good, now get out there and find your dream.
More Muscle Cars For Sale – http://fastmusclecar.com/muscle-car-for-sale/
Donate To Fast Muscle Car
We spend a lot of time bringing you muscle car content. If you would like to donate something to help us keep going, that would be fantastic.
The Classic Corvette

,