Muscle Cars
Sedan Delivery Vans: A Great Hotrod Platform.
By
|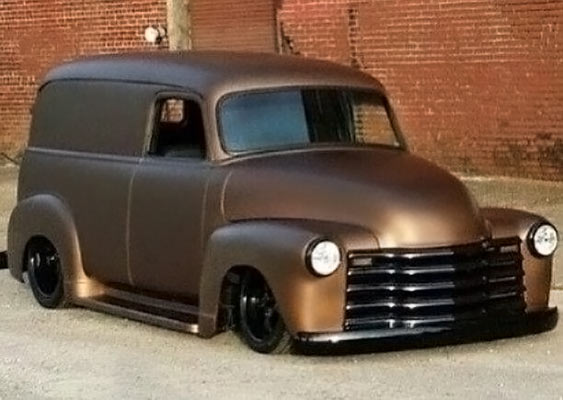 By Mark Weisseg
These vehicles at one time were THE workhorses. Many came with side windows while others were solid on the sides to keep wandering eyes out.
I have a neighbor that had one back in the day and his had side windows. He and his wife had many children so it was like the modern day mini van to them (many say they invented the SUV by cutting out the sides and adding seats, but that's another story).
Most came with a six cylinder engine and a three speed on the steering column. Some used for delivery vehicles, ambulances, hearsts, fire and rescue vehicles and so on.
The sedan delivery came in many styles and even included ones that had opening sides in case you were selling fruit and apples or just needed an easier way to get your goods. But, remember for the most part the trucks as we called them were work related vehicles.
Now, the person that restored this one in the picture clearly did not get the memo. This truck cannot get any lower unless the idea is to plow up the road. Visibility in all these sedan delivery vehicles was poor. You had to rely on the side mirrors or risk hitting something. Today, we use cameras in the back and full LED screens up front to guide us. There is plenty of room under the hood for nearly any type of engine and you can bet this one does not have a six cylinder with a three speed.
Sedan delivery vehicles are tough to come by today as they were generally used and used hard. By the time they were done I mean they were done. Plumbers, electricians, and all sorts of handy man businesses used them. Farmers liked them as the two doors in the rear were big and if so desired you could only open one door. The variety of the vehicle seems endless and it was. Today as I mentioned few survived so when you see one like this one you must stop and appreciate the work that went into it. Guys are dropping huge crate engines in these vehicles now and do not be fooled by the size. Remember, most of these rigs were empty from the drivers seat back so it made them lighter than you think. Drop a big crate motor in, a quality transmission and a set of quality tires and one could easily smoke some unknowing guy out there.
I own a 49 Chevy truck and it is a beast. Nothing fast or easy about it.
I cannot fool anyone that I am hiding a big engine under the heavy hood. But, this sedan delivery is a hot rod now and watch out. It will roll and roll fast. If you see a sedan delivery out there for sale I suggest you buy it.
It's a perfect barn find as some farmers just parked it and walked away when they thought its useful life was over. Nope, life has just begun for these classic fast trucks.
For all muscle car parts – http://fastmusclecar.com/muscle-car-parts/
Donate To Fast Muscle Car
We spend a lot of time bringing you muscle car content. If you would like to donate something to help us keep going, that would be fantastic.
Sedan Delivery Vans: A Great Hotrod Platform.

,