Muscle Cars
The 1957: The Best Of Chevy?
By
|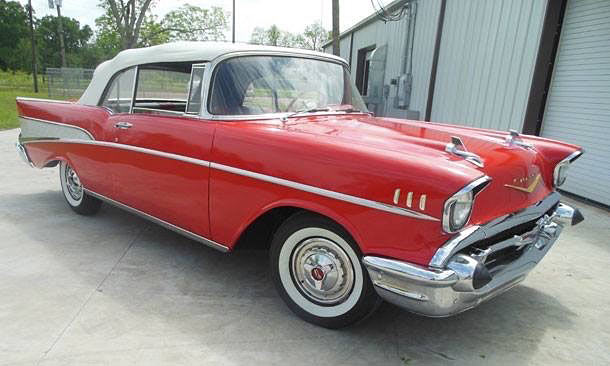 By Mark Weisseg
I never started out as a GM guy, but I guess the truth got to me eventually. You know the guy that would rather have all his teeth pulled with rusty pliers than admit something? Well, I am not that bad, but GM was just not on my radar when I was young.
Today, I own several GM cars and trucks and I like them all. Of course, I like just about anything on wheels, but clearly I have seen the light.
Now the quandary, which is the best of them all, if that's possible? Geez, I like those '55 and '56 Chevys and I like many other models. Like any other car company, they have plenty of turkeys to give out. But I am here to declare that in my humble opinion the '57 is the best.
I say that knowing full well many will disagree with me but, I have a simple answer. The '57 sticks out like a big sore thumb. But, in a positive way.
The car has iconic styling, features and best of all, nearly everyone knows what a '57 Chevy looks like.
The car was very popular back in 1957 and has now stayed that way forever. Why they changed it in '58 is a question that has been asked a zillion times. Obviously, the two door model is the king. The four door is still cool but, not as cool as the two door.
We love the side styling and slight fins at the back. Vent Windows, soft top if desired, big roll down windows, extremely desirable interior styling makes this car one of the few nearly everyone knows as the 1957 model.
The only other cars that pop into my head that hold the title of immediately knowing what they are may be – The Superbird, the GTO, the Corvette, maybe a Corvair and a VW bug. Now, I know you may have a different list but I did say these are what popped into my head very quickly. When I go to a car auction I watch these '57 Chevys because they start out high in pricing and go up.
Whether fully restored or a very rare barn find, this car is desired by nearly everyone. I know die hard Ford guys who given the chance, stumbled onto a '57 barn find, they would do what is needed to buy it. Trust me if I found one that was forgotten I would buy that car in a flash.
This car also has great appeal worldwide, few other cars can brag about. If you were opening a museum with one of everything in the world, my guess is the '57 Chevrolet would be your choice.
A friend I was with in Vegas recently said he owned a few '57 Chevys in the 60's and really liked them. Of course had he known now what would happen to the value of these cars…… you know, hindsight is a lovely thing.
Some bought them with the 283 engine, drove them all year round and never gave it a thought. It was just the family car. Today, we would cringe at putting snow tires on the back and trudging through the mountains of Colorado.
I have been lax discussing this wonderful car and felt it was time to get the secret out in the open.
For all muscle car parts – http://fastmusclecar.com/muscle-car-parts/
Donate To Fast Muscle Car
We spend a lot of time bringing you muscle car content. If you would like to donate something to help us keep going, that would be fantastic.
The 1957: The Best Of Chevy?

,