Muscle Cars
Muscle Cars: They Used To Be A Kids Playground
By
|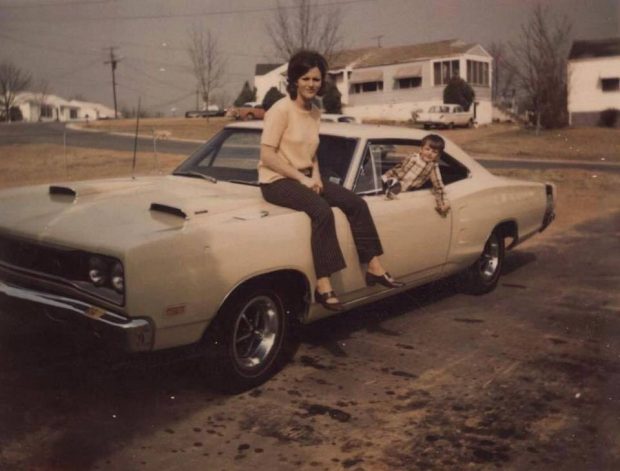 By Mark Weisseg
Study the picture closely and see what most of us remember from the "old" days. Small starter homes in a newly formed neighborhood, a Mother sitting on the hood and a little boy inside as happy as can be.
When I was a young boy I would sneak out to the car whether it was on the street or in our garage and pretend I was driving, like many kids of the day.
Of course I did not have the keys but back then steering wheels did not lock. I would play pretend I was driving somewhere and at times a friend or two would join me. All, to pretend we were really driving around town. When my parents had guests I would sneak outside and get in there cars and look around at how different they were from ours. I was a little gear head from the word go.
I was like many kids, using the car as my play area. This is what got many of us started from a young age. Not exactly the done thing these days.
I do have a funny story that thankfully I was not involved in. I actually was down the street playing and saw my younger sister get into a Chevy Impala that was in our driveway. She jumped into the Chevy and I saw her playing with the steering wheel and such and the next thing I see is the car rolling down the driveway with her in full panic mode. I am guessing now she was about eight years old and when the car finally stopped at the street she jumped out and took off like a frightened rabbit. Now for me it was revenge time as she constantly pestered me and always told my Mother of my misgivings. So, I made a bee line for the house to tell Mom what the little rug rat just did. The warden gave her a one day in house prison sentence and I got one day without her bothering me.
So, for safety it's obviously a good thing that cars are not the playgrounds they once were, but it sure was fun, and gave us the early thrill of sitting behind the wheel.
Lastly, if we were caught sitting on the hood Dad would gives us hell for it so its one of the things we never did. Why he and Mom let me play in the car as we did is still a mystery, but boy was it fun.
More Muscle Cars For Sale – http://fastmusclecar.com/muscle-car-for-sale/
Donate To Fast Muscle Car
We spend a lot of time bringing you muscle car content. If you would like to donate something to help us keep going, that would be fantastic.