News
Muscle Cars Of Fast and Furious 7
By
|
Muscle Cars Of Fast and Furious 7
The fast and the furious 7 has been released, with the usual array of supercars, but most importantly featuring the film defining muscle cars.
The film is especially poignant due to the passing of Paul Walker, so if you have seen any of the other films in the series, this is well worth a watch.
There are no spoilers here, but from current reports, the film is fast, loud, not much dialogue, but amazing fun to watch! Recommended.
1970 Dodge Charger R/T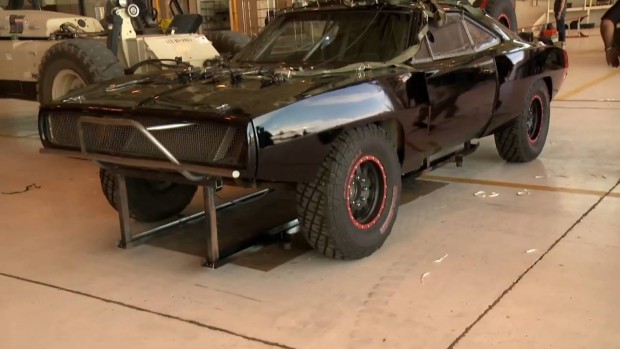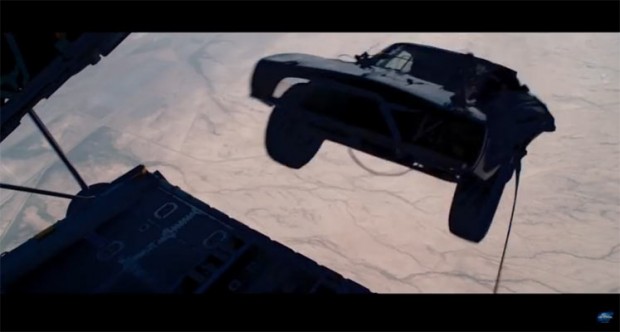 The 70s charger used in the series is Vin Diesel's main ride, modified with 4×4 tires.
The Charger's engine is a modified GM LS3, 6.2 L, 500HP. (what no Hemi! they do seem to like their LS3s. )
Nine versions of the charge were constructed for the film, five being used for the plane drop scene, where one of the Dodge Chargers was dropped from a Lockheed C-130 Hercules at 12,000 feet!
68 Maximus Ultra-Charger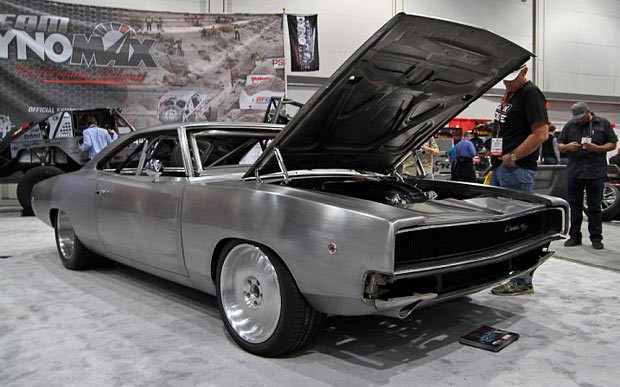 Driven by Dom Toretto in the movie and in the final scene, this Charger was purchased at the 2013 SEMA show.
Rated at 2000 hp, top speed – 260 miles an hour, this thing is as vicious in real life as it is in the film!
2011 Dodge Challenger SRT-8 (green)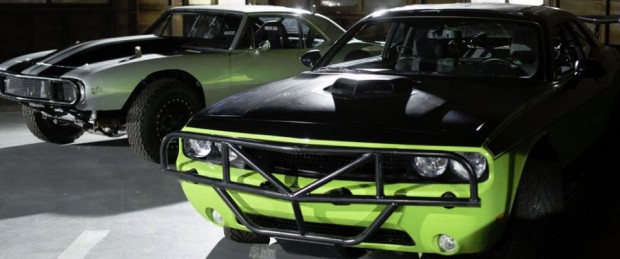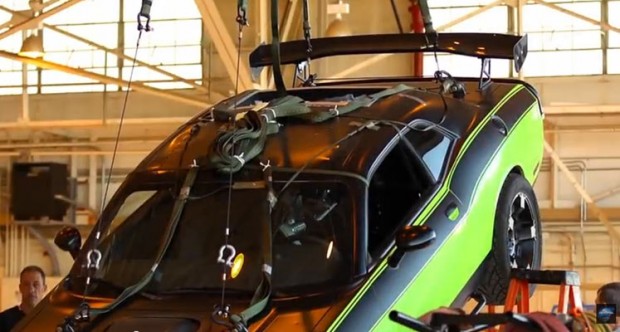 Driven by Michelle Rodriguez (Letty Ortiz)
600 hp, an aerofoil and off-road capabilities, this is a fine looking Challenger!
1972 Plymouth Barracuda (black)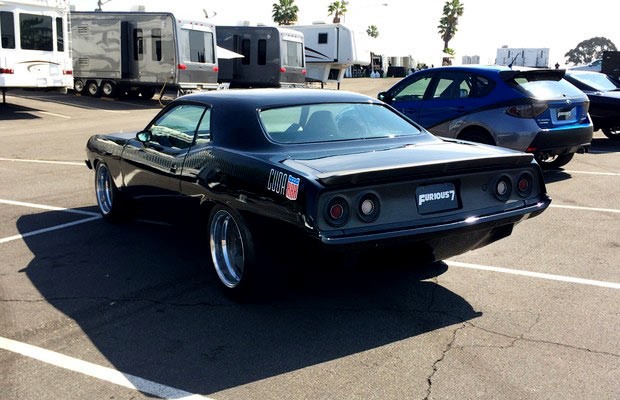 Appearing in the Fast and Furious 6.
6.2L LS3 500Hp, the car which Letty used to beat the Audi R8 in the Race Wars. AAR badging, but not verified if it is one.
Armored 2015 Jeep Wrangler Rubicon X 2014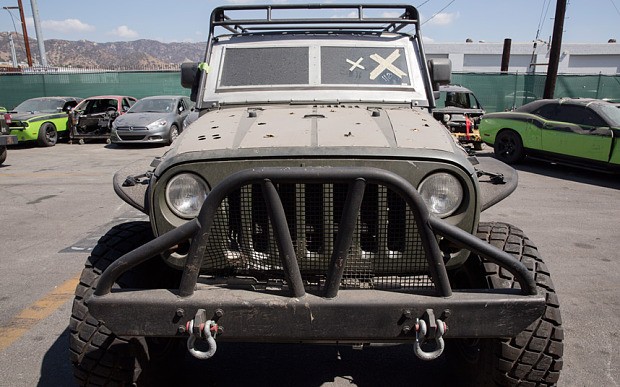 driven by Tej – Chris 'Ludacris' Bridges.
1970 Plymouth Road Runner (orange/black)
Featuring a 6.2 GM LS3 500hp engine. Dom wins this car and repaints it to race Sean in Tokyo.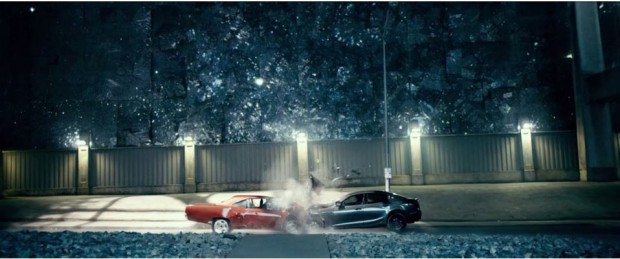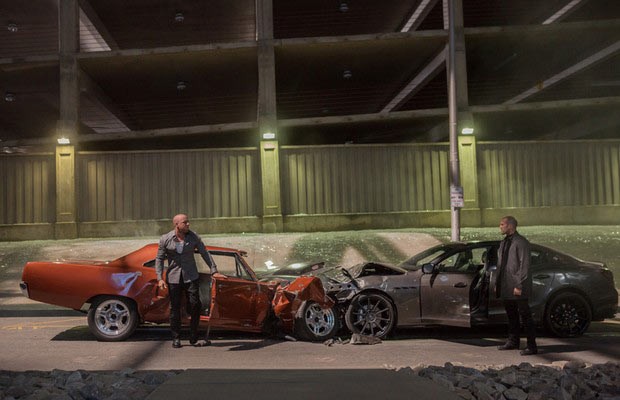 …..and the scene after where they exchange insurance documents and complain about the inadequate street lighting and road markings……..
1967 Chevrolet Camaro Z28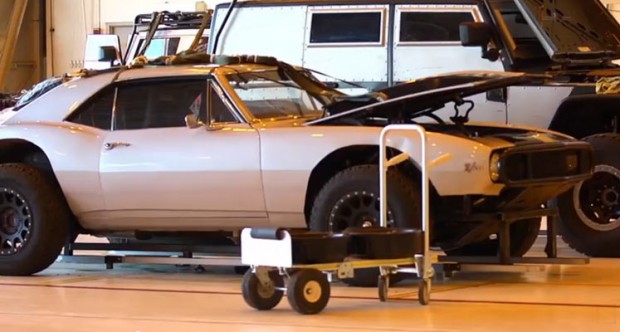 Blink and you may miss the Z28 badging. Featuring a 6.2 LS3 500Hp engine, off-road capability, 255/70 tyres and 17 inch wheels, turning this Camaro into a monster.
1969 Ford Torino Talladega 'GPT Special'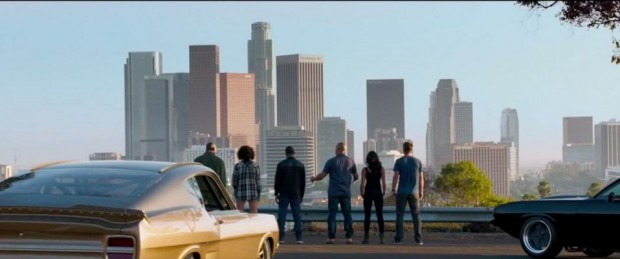 The Torino is more a regular extra in the fast and furious franchise than a main character. This fastback has a 750 hp, five speed manual package.
Dodge Charger 2015 – Dom Toretto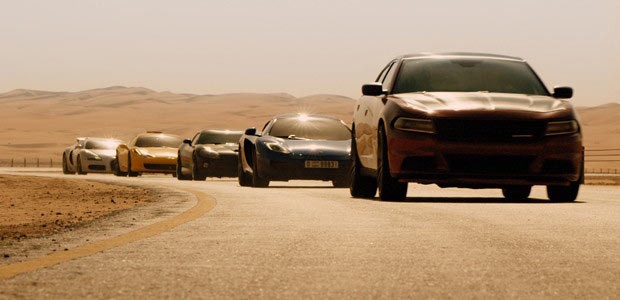 A quick glimpse of a 2015 Dodge Charger at the front. It's a Charger hellcat or an R/T Pack.
The other supercars featured in the film show the European equivalents, with plenty of slick lines and plenty of high-class quality, but you can't beat the muscle cars featured in the film for their presence, power and stance. Like watching a pack of Lions and then the alpha male walks in, they all look powerful and elegant, but the main guy will always stand out!
I know which ones I would prefer.
References – http://www.imcdb.org/movie_2820852.html
www.furious7.com/
Donate To Fast Muscle Car
We spend a lot of time bringing you muscle car content. If you would like to donate something to help us keep going, that would be fantastic.
Muscle Cars Of Fast and Furious 7

,