Muscle Cars
Muscle Car Talk: Maybe A Truck Project?
By
|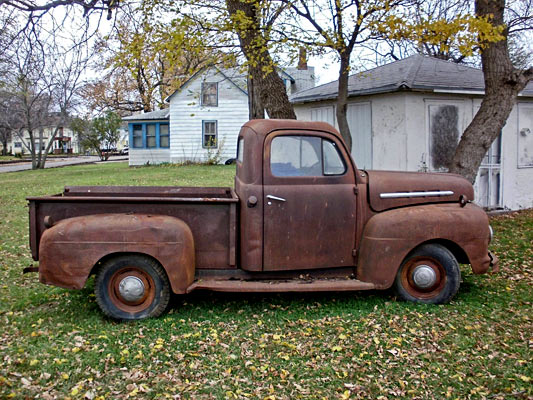 By Mark Weisseg
I happen to love Patina and if I were the lucky owner of this truck I would do everything in my power to keep it original. Why? Well, it is only original once and when it comes to trucks, that is usually my thing. Two of my classics are originals and the others have had some modifications. It's just me.
Go find a project.
However, this old Ford is ripe for the picking right now. Winter has gone, the days are longer and there is no better joy than tinkering with some rolling artwork.
Go find a project like this one. There are many great web sites out there to locate honest to goodness western cars and trucks ( that is how I found mine) that could use your talents. This little truck could write a story. Look at the background. Small town, old trees, old reliable truck, geez I could shed a tear.
But I am serious about a project. Whether you desire a rat rod or a monster hot rod, a truck like this is the ticket. Maybe just get it running and safe for the roads. You have many choices with a blank canvas like this rig. Use your imagination and your skills and make whatever you do your own.
I did it several times and hope to continue to see my projects move along in the way I want them too. It will cost you time, money and other issues will pop up but when done you can beam with pride. My goal is to keep treasures like this out of the crusher and I certainly find no value in letting them rot in a field somewhere.
At times I wonder if the rage in twenty or forty years from now will be to convert the hot rods back to the original status and the original status vehicles into something else.
I say that as when I have walked through a museum it seems like I always bump into a wagon that was once pulled by horses from the 1800's. Painstaking care and money was thrown at the wagon to make it look like it did back in the day. Side note for big truck lovers. If you see a big rig going down the road with big tarps on it that is called a covered wagon as that is what they looked like back before cars ruled the roads.
So, many things in our life come full circle and we all know what was old is new again and so on.
Plenty to choose from.
There are plenty of cars and trucks just begging to be bought and fixed up to your liking.
Just take 30 minutes and try a different search for something different. You will be stunned at how many options there are for you outside the normal web sites we all tend to remember. It is a question I get all the time on my barn finds. "How or where did you find this"? I answer the same way every time as it is the truth. I spent hours searching by vehicle or type, or by asking people I know all over the country for advice or guidance.
There is no way anyone of us could possibly know where everything is. But, someone knows of a honey hole or a place that just might unleash your dreams. Start talking, writing, do inquires, and tell anyone you can remember to call a friend you are on the hunt for…. You might be surprised.
You can try our 'for sale' section http://fastmusclecar.com/muscle-car-for-sale/ then expand your search from there.
Start dreaming, get off your ass, and start planting your seeds everywhere.
More Muscle Cars For Sale – http://fastmusclecar.com/muscle-car-for-sale/
Donate To Fast Muscle Car
We spend a lot of time bringing you muscle car content. If you would like to donate something to help us keep going, that would be fantastic.