Muscle Car
Muscle Car Talk: Which Car To Choose??
By
|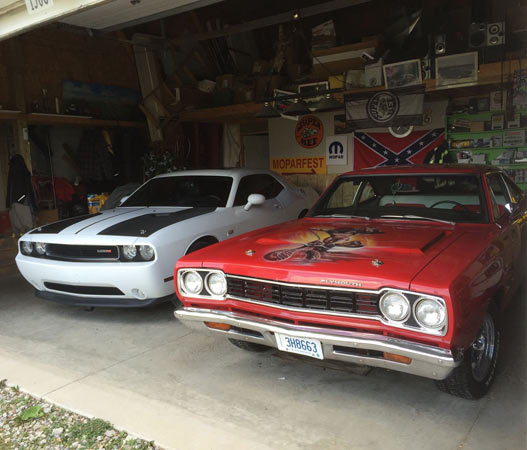 By Mark Weisseg
May I have your order please? When we sit down at a fancy food joint at some point a waiter or waitress will ask you what your pleasure shall be. You know you want beef but you also know fish is better for you in the long run. What about the wine list? Holy Moly there must be a hundred choices. Red, white, and so on. Room temp, cold, warm, you name it. You must make a bunch of decisions very fast or you will be sitting on the throne all night wishing you had taken the beef.
The same with cars, do you lay out 65K for the newer hot rod with all the bells and whistles or, should you lay out the same amount of cashola for the vintage car of your dreams?
So many choices. One, has air conditioning and a great stereo but lacks the "WOW" factor. The older model is down right cool and you know you want it. You also know your butt is now bigger than it was in 1969 and driving that vintage car may be rough on your aching back.
What do you do? Sure if you had money dripping out your ears you would buy both but after checking the bank account you know that is for dreamers.
Everyone has an opinion, especially when it is not their money. Who cares if you screw up and buy the wrong one? You do. But, now you are stuck. The answer lies in your heart not in your brain. Always follow your gut and heart. Your brain will always tell you to save money, be safe, don't take risks. Your heart will tell you that you still can run a marathon or eat fifteen hot dogs in a row without any problem.
So, you say I should help you? Sure, why not. Lay on the couch and tell me all about the problem. I will hum once in a while and clear my throat, take notes, and look very serious. When your time is up I will tell you I must think it through a brain trust and you will need to come back and see me next week. By then you will either go mad thinking about the issue or realize you paid me a ton of money to watch you lay on a couch and babble for an hour. After further review you make your decision. It was as hard as you could have imagined. It seemed like you lost sleep, ground your teeth while sleeping and forgot other important duties in life. Everything in life came to a halt while you were deciding. But, now is the time finally. It took you a long time to come up with this decision and you are now going to live with your choice for years to come. What's the answer? Well, it's……
More Muscle Cars For Sale – http://fastmusclecar.com/muscle-car-for-sale/
Donate To Fast Muscle Car
We spend a lot of time bringing you muscle car content. If you would like to donate something to help us keep going, that would be fantastic.