Muscle Car
Muscle Car Talk: Can You Have Too Many Tools?
By
|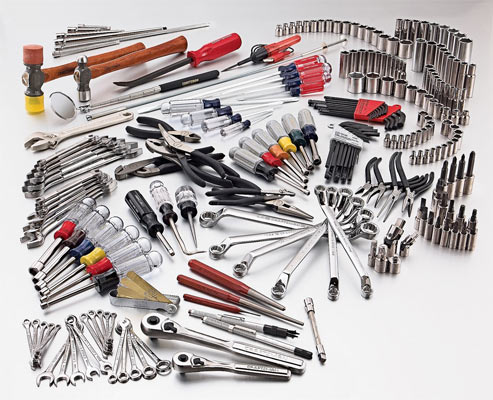 By Mark Weisseg
I finally realized something I should have sooner, I have way too many tools.
I started buying and collecting my tools in the late 1960's and never threw anything away. You don't throw away a perfectly good tool, do you.
The problem is they have multiplied over the years. Why in the world do I have about 40 screwdrivers? Aside from a standard, metric and the silly torx drivers I must have two or three of each. Sockets – my gosh I have way too many. Six point, twelve point, deep well, impact, shallow, and so on.
I was opening and closing drawers and wondering how in the world I landed up with three battery tenders, a charger, a tester, and extra leads. Honestly I need another box as the drawers are all full. But, if I buy another box I get the feeling I will see empty places and buy more tools. It's pure insanity folks. I have tools I know I have not used in years. But, I keep them. What makes us car guys spend fifty bucks on one ratchet but balk at spending the same money getting my teeth cleaned? I cannot imagine based on the cars and trucks in my stable that I could need more tools.
That's the nature of the beast however. We are all built the same way when it comes to tools. We don't like to lend them out and we really don't want anyone else to use them. I paid for them, get your own.
Don't lean on the tool box or treat it poorly. That will get my temper up. It's like having another child. Today's boxes come with TV sets, computers, stereos, and much much more. They also cost as much as a house. Guys make payments for years on them. They have special covers for them and have maintenance you need to do on the boxes.
The biggest box I ever saw was purchased by a young mechanic at a small shop near my home. It took up the entire wall and was painted lime green like an old Mopar. That bugger had more drawers and shelves than I have ever seen. He privately told me the price and I almost had to sit down. This guy will be making payments long after he is dead. How did this happen? Ego. Having a better, bigger, yes smarter box is all the rage.
Years ago we bought them for the function of storing our hardware. Today it is all about the show. Picture areas for your family, light kits and anything else you desire to stand out from the crowd. The box I saw was so tall he had a special step made so he could see what was on the fourth floor. The box had a built in security system. I used to lock mine and walk away. Today, it has an alarm system that will call your smart phone if it is tampered with. Jiminy Crickets how times have changed.
I even have my very first tool box out in the garage and of course my original first ever tools. I will go down with the ship before I get rid of them. I have an engine hoist, an engine stand, a parts washer, two floor jacks, Jack stands, hand held lights, a special creeper and tools galore. And remember, it's in my garage. If you add in all the other tools in my garage it would easily put me into the Home Depot or Lowes catagory. Pry bars, saws everywhere, and all sort of gadgets and gizmos that make me wonder how I got the addiction so bad. The problem is also compounded by the car companies changing something to make you buy more tools. What the heck do we need Torx screws for? You mean a standard or a Phillips head was not good enough.
I know this though and I mean it. This time I really am cutting back. I mean it this time. I really do…
If you want to add more tools and car parts to your collection, try our Car Parts Page – http://fastmusclecar.com/muscle-car-parts/
More Muscle Cars For Sale – http://fastmusclecar.com/muscle-car-for-sale/
Donate To Fast Muscle Car
We spend a lot of time bringing you muscle car content. If you would like to donate something to help us keep going, that would be fantastic.