Best Muscle Cars
Mercury Cougar History from 1967-1970
By
|
by David Ashton
The Mercury Cougar 1967-1970 is arguably one of the unsung heroes from the muscle car days and even with a brief hiatus from 1997 to 1999 and it's last years as a generic car, the original generation is still a standout vehicle and a worthy purchase in the muscle car world.
First generation from 1967 to 1970
Released on September 30, 1966 , the first Cougar had a definitive lock with a new sheet metal outside and distinctive electric shaver grille, license plate surrounds, concealed rear taillights taken from the Thunderbird. The styling was meant to imply a more European theme according to American tastes at the time.
1967 Mercury Cougar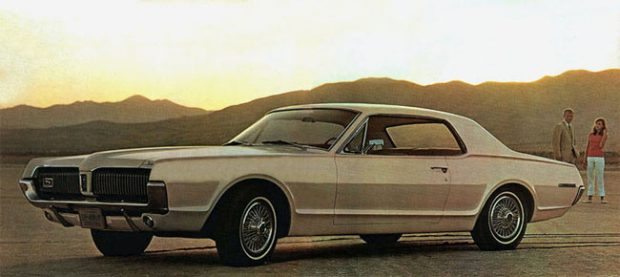 Although the Mercury Cougar had still quite a sizeable engine up to 1979 in its fourth generation, it was the first generation which seem to get it right. Seen as bigger version of the Ford Mustang with a 3 inch longer wheelbase, the Mercury Cougar was a more luxurious vehicle. The two models available were the base and the XR-7 with the GT option.
Engines were available from a 289cu.(4.7L) up to a mighty 427cu.(7L) V8. The XR-7 package included a simulated wood dash, wood-rimmed steering wheel, black competition instruments, overhead console, leather-covered T-type handle transmission shifter, with leather vinyl seating.
The vacuum canister powered covered headlights were only available for this generation
The other package available was the GT which added an additional $323 to the price. This included a 390 cu./335HP FE series V8 engine with firmer, upgraded suspension with solid rear brushings and stiffer springs incorporating a hook and eye joint, upgraded power front disc brakes, low restriction exhaust system, 8.95 × 14 Wide Oval tires, 0.84 inch anti roll bar.
The FE series V8 engine had a mild cam with street type valve timing, hydraulic lifters, Holley C70F carb. and a 10.5:1 compression ratio. This was coupled to either a three or four speed manual transmission or a three speed Merc-O-Matic automatic transmission with manual shift for downshifting to second gear below the 70 mph range of office gear below 20 mph range. The GT itself came with a manual transmission and 3.00:1 or optional 3.25:1 'Power Transfer' rear end.
As a more luxurious version of the Mustang, the Cougar won Motor Trends car of the year in 1967.
Factory exterior colors included:
Onyx
Madras Blue
Diamond Blue
Glacier Blue
Caribbean Blue
Wellington Blue
Nordic Blue
Sea Foam Green
Augusta Green
Lime Frost
Grecian Gold
Fawn
Saxony
Black Cherry
Cardinal Red
Polar White
Factory interior colors included:
Aqua
Black
Light Ivy Gold
Parchment
Saddle
Light Blue
Dark Red
Nugget Gold
Dark Blue
Dark Ivy Gold
Production numbers for this year were 116,620 standard hard tops, 27,221 XR-7 hard tops and 7,412 bench seat versions.
1968 Mercury Cougar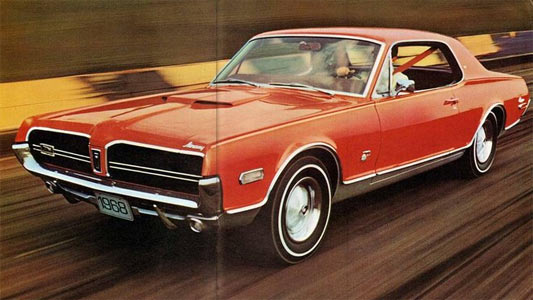 1968 saw the Mercury include federally made side marker lights and shoulder belts. Three extra engines are added to the lineup, which included a 302 cu. , 428 cu. and a 427 cu. V8, all with four barrel carbs. A 289cu. engine was the standard on base models. The '68 model also includes an electric sunroof and tilt away steering wheel.
The 428 Cobra Jet was good for 0 to 60 mph in 5.6 seconds and could do the quarter-mile in 14.1 seconds at 103mph.
XR7-G
The other performance package came in the form of the XR7-G made for Dan Gurney, with only 619, produced, 188 Hertz editions and only 14 with the 428 CJ engine and 85 XR7-G's wih a 302 cu., 146 with a 302cu./235hp and only 14 with a 428-cu./335hp Cobra Jet V8 4.13 x 3.98-inch bore and stroke, 4 barrel carb. and a dual exhaust system. Options included a fiber glass hood scoop, sunroof, racing mirrors, hood pins, FR70-14 tires, four exhaust tips and 'G' Cougar emblems and badging on the instrument panel, grille, deck lid and the roof pillar.
Check this link for a full rundown of the XR7-G options.
This option cost $666.95.
GT-E package
This package was available on the base car and the XR-7 with a total of 394 being produced in this year. The 428cu. replaced the fourth to 7 with an official 335hp, but more like 390 bhp.
Production numbers for this year were Convertibles 5,796, XR-7 2D Hardtop 23,918 and XR-7 Convertibles 4,024 and the total for all variations 113,720.
1969 Mercury Cougar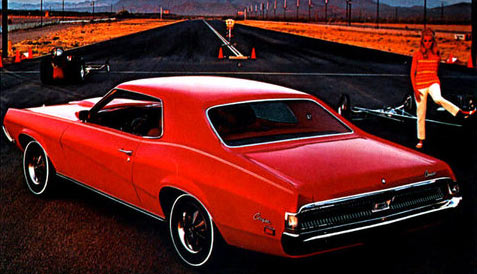 A convertible was available for the base model or the XR-7 this year being now very collectable. the Grill now had horizontal bars rather than vertical with concave taillights. body styling included a very cool sweep from the nose to the rear wheel well.
Performance packages for this year included the Eliminator Equipment Package for $129.60 centered around a Windsor 351cu./290 bhp V8 engine, optional 302cu. 290HP V8 and a 428 Cobra Jet with a choice of Ram Air and performance rear end 3.50:1.
Extras for the package included a high back bucket seats, F70x14 inch Goodyear Polyglas tires with blank centre caps, unique dash and tach. with trip odometer and Rallye clock, 4.30:1 Detroit locker, front spoiler and rear wing, hood scoop which was functional, with the Ram Air option, blacked out grille, remote-control left-side mirror. The 428 Cobra Jet option had stiffer suspension, better antiroll bar and on manual transmission versions the left rear shock us move to behind the axle to counter hard acceleration. A 428 Cobra Jet could do 0 to 60 mph in 5.6 seconds and the quarter-mile and 14.1 seconds at 103 mph.
Only 2,250 Eliminators were produced this year, 4,024 XR-7 Convertbiles, 5,796 Standard Convertible, 1,615 Bench-seat hardtops, 23,918 XR-7 Hardtops and Standard Hardtops.
Engines for this year included the standard 351ci./250 hp , 351ci – 4V/290 hp, 390ci./320 hp V8, CJ 428ci./335hp (optional Ram Air) and Boss 302/290 hp. These are available in 3 speed manual, 4 speed manual and Auto (Merc-O-Matic) transmissions.
Two very rare Cougars were built for 'Fast Eddie' Schartman and 'Dyno' Don Nicholson with a Boss 429 V8, both being possible of the rarest Cougars around.
A Cougar Sports Special was available this year with unique features such as pin striping, distinctive turbine style wheel covers, side scoops and rocker panel moldings. the same interior and performance options are available apart from the Boss 302 engine. As no exterior badging gave the Sports Special away, it's down to the experts to spot one of these beauties.
Factory exterior colors included:
Black
Maroon
Dark Ivy Green
Pastel Gray
Light Aqua
Dark Aqua
Light Green
Medium Lime
Dark Orchid
White
Medium Blue
Medium Gold
Red
Yellow
Dark Blue
Burnt Orange
Light Ivy Yellow
Competition Orange
Medium Green
Bright Blue
Light Blue
Yellow (Spring Cougar Color)
Factory interior colors included:
Aqua
Black
Ivy Gold Parchment
Saddle
Dark Red
Dark Blue
Dark Ivy Gold
White
Blue
Red
1970 Mercury Cougar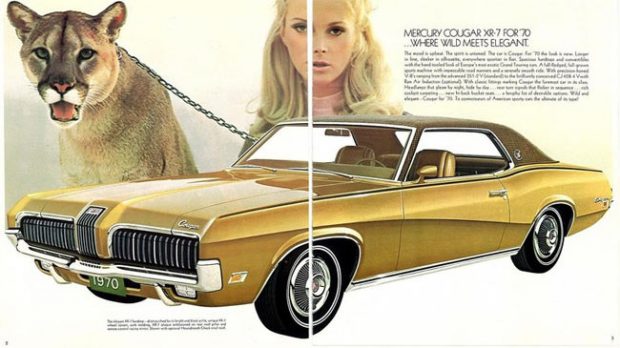 The 1970 model carried on from the 1969 version, but with a more protruding center hood extension and a grill which is more like 6768 versions. blocking steering columns appeared as with taillight bezels, high-backed bucket seats, front bumper and front fender extensions.
The Eliminator performance package was still available this year with much more bold graphics and a black hood scoop. You also got independent ball joints and coil springs, longitudinal leaf springs, gear ratio of 3.25:1, single lower control arm and upper A-type arm for better handling. for this year, the eliminator was also available in six colors which included speciality colors and Pastel Blue, Competition blue, Competition gold, Competition yellow, Competition green and Competition orange. 2,267 Eliminators were made in this year with no convertibles made.
The 351cu./300 hp four-barrel carb. 'Cleveland' V8 was available this year, along with the two barrel Windsor engine for the base model. The Standard 351ci., 351ci – 4V, Boss 302 and a 428 CJ.
The interior was treated to new upholstery which included a houndstooth check pattern, Black Comfort Weave, white Comfort Weave and Blue Comfort Weave along with the standard interiors.
Production this year saw 49,479 standard hard tops, 18,565 XR-7 Hardtops, 2,322 Standard Convertibles, 1,977 XR-7 Convertibles.
By 1971, the Mercury Cougar was completely restyled and re-designed for its second-generation, doing away with its muscle car roots and going for a complete luxury car styling. The car continued on through eight generations up until 2002. However, it was the first generation that produced the most legendary Cougars and models can still be found in very good condition for a reasonable price compared to their other muscle car counterparts. This won't last for long, so if you are in the market for a fantastic muscle car you may want to consider a Mercury Cougar.
For example, here is a 1968 Mercury Cougar Dan Gurney Special going for $25,000, with only 32,000 miles on the clock in excellent condition as of 2.6.17.
For all muscle car parts – http://fastmusclecar.com/muscle-car-parts/
Donate To Fast Muscle Car
We spend a lot of time bringing you muscle car content. If you would like to donate something to help us keep going, that would be fantastic.