Best Muscle Cars
The Ultimate List of American Muscle Cars
By
|
By Dave Ashton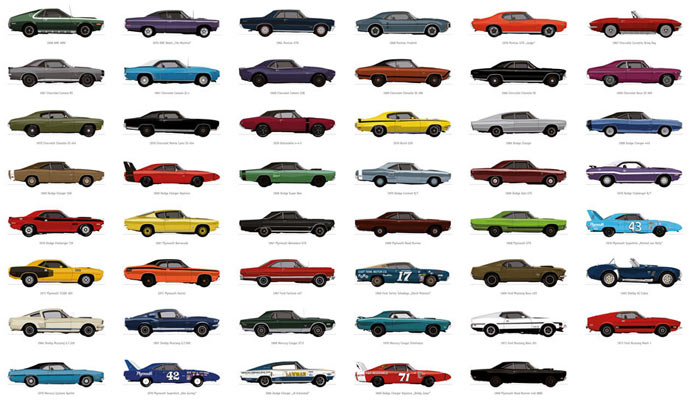 Phew, I've been a busy little bunny putting this list together for you all for the ultimate muscle cars list, mainly so you can quickly find each muscle car more easily on the website.
You can find all this information very easily via the website 'search,' but there is nothing like seeing a list of information, finding the bits you want and expanded on that information.
If there are any omissions here, please leave a comment and we will add the vehicle, so this becomes the best online resource for finding your favorite muscle cars.
If you need any parts for your muscle car, visit our Muscle Car Parts page. We have a nice list of suppliers who specialize in the most common muscle car parts and some of the more rare types.
We also compile our daily finds of the best muscle cars buys, which you can find on our home page daily or a complete listings here.
You can use the list below for your own research, muscle car prices, muscle car news or just to look at some cool muscle car pictures!
Full-size Muscle Cars

1962–1970 Buick Wildcat
1966–1973 Buick Riviera GS until 1972, then Riviera GS Stage 1 models
1965–1974 Chevrolet Impala SS until 1969, then any high HP-engined models
1965–1974 Chevrolet Bel Air along with Chevrolet Biscayne and Chevrolet Caprice
1965-1971 Chrysler 300 non-letter series
1960–1973 Dodge Polara along with other full size C Body Vehicles
1965–1974 Ford Galaxie
1962–1967 Mercury S-55 (1964 and 1965 badged as Marauder)
1963–1970 Mercury Marauder (1966 and 1967 as S-55)
1961–1966 Oldsmobile Starfire
1964–1965 Oldsmobile Jetstar I
1969–1974 Plymouth Fury GT
1960–1963 Pontiac Ventura
1964–1972 Pontiac Grand Prix
Mid-size Muscle Cars
1967–1970 AMC Rebel The Machine
1971–1973 AMC Matador The Machine
1965–1972 Buick Skylark Grand Sport & Buick GSX
1965–1973 Chevrolet Chevelle SS
1966–1974 Dodge Charger 500, R/T & SE
1968–1971 Dodge Super Bee
1969 Dodge Charger Daytona
1966–1969 Ford Fairlane GT, GTA, and Cobra
1968–1974 Ford Torino (GT, Cobra, and Talladega)
1966–1972 Mercury Cyclone and Mercury Cyclone Spoiler II
1968–1972 Oldsmobile 442
1968–1972 Oldsmobile Cutlass ("Ram-Rod" 350, Rallye 350, W31, SX)
1967–1971 Plymouth GTX
1968–1974 Plymouth Road Runner
1970 Plymouth Superbird
1964–1973 Pontiac GTO
1968-1971 Pontiac Tempest GT-37
1973-1975 Pontiac Grand Am
1969–1974 Pontiac Grand Prix SJ
Compact Muscle Cars
1969 AMC SC/Rambler
1971 AMC Hornet SC 360
1966–1974 Chevrolet Nova SS
1967–1976 Dodge Dart GT, GTS, Swinger & Demon
1970–1976 Plymouth Duster Gold Duster & Twister
1966–1979 Ford Falcon Sports Coupe
1970–1975 Ford Maverick Grabber
1971–1975 Mercury Comet GT
1973–1974 Oldsmobile Omega S
1973–1974 Buick Apollo GSX
1974 Pontiac GTO
Pony Muscle Cars
1968–1970 AMC AMX
1968–1974 AMC Javelin SST
1967–1974 Chevrolet Camaro RS, Z/28 & SS
1967–1969 Yenko Camaro 427
1969–1974 Dodge Challenger SE, R/T & T/A
1964–1973 Ford Mustang Mach 1, Boss 429, Boss 302 & Boss 351
1965–1970 Shelby Mustang GT350 & GT500
1967–1973 Mercury Cougar GT, XR-7 & Eliminator
1967–1974 Plymouth Barracuda BP, BS & 'Cuda
1967–1976 Pontiac Firebird Trans Am
A-Z of American Muscle Cars
A
AMC muscle cars
1968–1970 AMC AMX
1968–1974 AMC Javelin SST
1970–1971 AMC Rebel
1970 AMC AMC Rebel
1970–1971 AMC Matador
1969 AMC SC/Rambler
1965-1967 AMC Rambler Marlin
1971 AMC Hornet SC 360
B
Buick muscle cars
1965–1969 Buick Skylark Gran Sport
1963–1993 Buick Riviera
1965–1975 Buick Riviera Gran Sport
1972–1975 Riviera GS Stage 1
1968–1974 Buick Gran Sport and GTX
1962–1970 Buick Wildcat
1968–1969 Buick Gran Sport
1970–1974 Buick GSX
1974 Buick Apollo GSX
1969 Buick GS 400
C
Chevrolet/GM Motors muscle cars
1961–1970 Chevrolet Impala
1965–1973 Chevrolet Chevelle
1965–1973 Chevrolet Chevelle SS
1969 Chevrolet Chevelle SS 396
1970 Chevrolet Chevelle SS 454
1965 Chevrolet Chevelle Malibu SS
1964-1973 Chevrolet El Camino
1967–2002 Chevrolet Camaro
1967–2002 Chevrolet Camaro Z/28
1967–2002 Chevrolet Camaro SS
1967 Chevrolet Camaro RS
1967 Chevrolet Camaro ZL-1
1953-Current Chevrolet Corvette
1962–1976 Chevrolet Nova
1966–1967 Chevrolet II Nova
1969 Chevrolet Nova SS 369
1961–1976 Chevrolet Impala SS
1958–1975 Chevrolet Bel Air
1965–1976 Chevrolet Caprice
1967 Chevrolet Corvette Stingray
1970 Chevrolet Monte Carlo SS 454
Chrysler muscle cars
1965–1974 Chrysler Newport
1955–1965 Chrysler 300 (B 372 engine)
1959–1971 Chrysler Town and Country (B 372 engine)
D
Dodge muscle cars
1962–1965 Dodge Dart
1962–1965 Dodge Dart GT
1962–1965 Dodge Dart GTS
1962–1965 Dodge Dart Swinger
1962–1965 Dodge Dart Demon
1963-1965 Dodge Custom 880
1968–1979, 1965–1966 Dodge Coronet
1970 Dodge Coronet R/T
1966–1974 Dodge Charger
1968 Dodge Charger 440
1969 Dodge Charger Daytona
1969 Dodge Charger 500
1968–1971 Dodge Super Bee
1970–1974 Dodge Challenger
1970 Dodge Challenger R/T
1970 Dodge Challenger T/A
1960–1973 Dodge Polara
1971-1972 Dodge Demon
F
Ford muscle cars
1964–1965 Ford Thunderbolt 427
1959–1969 Ford Galaxie
1966–1969 Ford Fairlane
1968–1974 Ford Torino
1968–1974 Ford Torino (GT, Cobra, and Talladega, Cobra Jet Ram Air 429, Drag Pack )
1969 Ford Torino Talladega
1965–2004 Ford Mustang
1971-1973 Ford Mustang 302
1971-1973 Ford Mustang 351
1967–1971 Ford Mustang Cobra Jet
1969–1973 Ford Mustang Mach 1
1969–1970 Ford Mustang Boss 302
1969 Ford Mustang Boss 429
1971 Ford Mustang Boss 351
1966–1969 Ford Fairlane GT
1966–1969 Ford Fairlane GTA
1966–1969 Ford Fairlane Thunderbolt
1964 Ford Fairlane Thunderbolt 427
1967 Ford fairline 427
1966–1969 Ford Fairlane Cobra
1964–1969 Ford Falcon
1967–1979 Ford Ranchero Truck
1964-1969 Ford GT40
G
GMC muscle cars
1971–1977 GMC Sprint
1978–1987 GMC Caballero
M
Mercury muscle cars
1966–1972 Mercury Cyclone
1967–1970 Mercury Cougar
1968 Mercury Cougar GT-E
1967 – Mercury Cougar XR7
1969–1970 Mercury Cougar Eliminator
1962–1967 Mercury S-55 (1964-1965 Marauder)
1959–1974 Mercury Monterey
1970–1971 Mercury Montego
1964–1977 Mercury Comet
1970 Mercury Cyclone spoiler
O
Oldsmobile muscle cars
1968–1971 Oldsmobile 442
1961–1999 Oldsmobile Cutlass
1968 Oldsmobile Cutlass "Ram-Rod" 350
1969–1970 Oldsmobile Cutlass W-31
1970 Oldsmobile Rallye 350
1974 Oldsmobile Omega S
1970 Oldsmobile 442
1963 Oldsmobile Starfire
P
Plymouth muscle cars
1962–1965 Plymouth Fury 413,
1962–1965 Plymouth Fury 426 Max Wedge
1962–1965 Plymouth Fury 426 Hemi
1963–1976 Plymouth Belvedere
1967 Plymouth Belvedere GTX
1962–1971 Plymouth Sport Fury
1967–1971 Plymouth GTX
1968–1974 Plymouth Road Runner
1968 Plymouth Road Runner 446 BBL
1964–1974 Plymouth Barracuda
1971 Plymouth cuda 383
1970 Plymouth Superbird
1970–1976 Plymouth Duster
Pontiac muscle cars
1961 – 1991 Pontiac Tempest
1962 – 1981 Pontiac Le Mans
1964 – 1974 Pontiac GTO
1964 Pontiac GTO Tri-Power
1970 Pontiac GTO Judge
1967 – 2002 Pontiac Firebird
1967 – 2002 Pontiac Trans Am
1950-1981 Pontiac Catalina
S
Shelby muscle cars
1965–1970 Shelby Mustang GT350
1965–1970 Shelby Mustang GT350H
1965–1970 Shelby Mustang GT350R
1965–1970 Shelby Mustang GT500
1965 Shelby AC Cobra
Click for More Muscle Cars For Sale – http://fastmusclecar.com/muscle-car-for-sale/