News
Mercury Comet Cyclone GT S code For Free!
By
|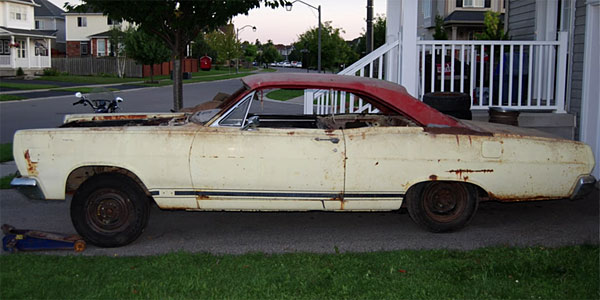 By Dave Ashton
That's right, a Mercury Comet Cyclone GT available for restoration at no cost, as long as you're a young car enthusiast. The idea was born after watching Casey Putsch's YouTube channel, which prompted the owner of the Cyclone GT to offer his car for free as inspiration for the younger types to get into the long tradition of restoring classic cars.
First a little back history about the story. Mike had a learning disability in school and it was the help of a seventh grade English teacher who spotted Mike's mechanically inclined potential. The teacher provided Mike with the factory service manual to his own Mercury Cougar, from which he quickly went from failing pupil to A grades.
This is basically the starting point of Mike's automotive career and now he wishes to pass on the same gesture. Basically, the Cyclone GT is available to a young car enthusiast who cannot afford a classic muscle car, but would love to work on one. Partnering with Casey Putsch of Genius Garage, they hope to find the right person to jump into this project.
As for the car itself, it is an all original, 1967 Mercury Comet Cyclone GT S-Code, with a 390ci. V8, originally producing 335HP and 427 lb.ft. of torque.
An amazing gesture and hopefully inspiration to others to provide the younger generation with donor vehicles. However, one of the major reasons why muscle cars are becoming less accessible, is just like other classic cars, their value is continually increasing. Which is making easy to work on cars less and less accessible. Vehicles which can be repaired with a basic toolkit rather than a laptop. Promoting basic mechanical skills and the sense of satisfaction when the project is complete.
It's not just a skill set that is slowly dying out, but also the knock-on value and confidence of being able to repair basic mechanical items. There was a time when things were simply repaired to keep them going. Not thrown away or sold as soon as they break or get a little old. Which means this isn't just about restoring an old muscle car, but also restoring a certain way of thinking. Maybe this will be inspiration for other vehicles to be accessible to the younger types to work on.
If you're interested, then email GeniusGarage@Hotmail.com with the subject 'musclecar.' Explaining who you are, your plans for the car and why you are the ideal person. Deadlines for the email are March 31st 2020.
Donate To Fast Muscle Car
We spend a lot of time bringing you muscle car content. If you would like to donate something to help us keep going, that would be fantastic.