Muscle Cars
The Long Road To Restoring A Muscle Car
By
|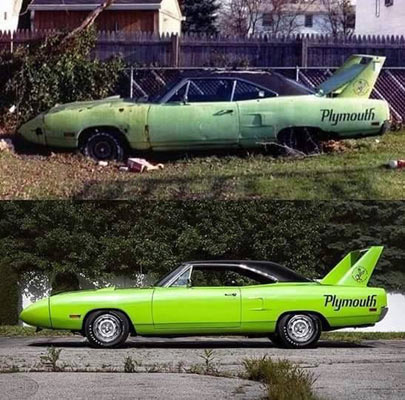 By Mark Weisseg
Rarely is a car or truck in so bad of shape you cannot do anything with it. For example look at these pictures. The Super Bird went from a small project to beauty. I mean what Bird isn't worth the time and effort? The Mustang on the other hand had a long way to go. Hats off to the cats that had the vision to make this a beauty once again.
These examples should inspire anyone to get off there ass and do begin restoring. I have a Model A that is almost done. Like any good restoration one item leads to another. I cannot say I am thrilled about it but I would rather discover these issues now and then eventually the car will be complete.
I just received a picture yesterday from my Brother Craig. He is a Master Mechanic and my older brother. He is up to his elbows in Model A parts now. But, he asked me to buy a new distributor for $145 and I did without asking why. If he says I need it, I need it. Well, he took the old one out and someone at one time had Jerry Rigged it as we once called it, as the wiring inside the distributor was bad. It was a hack job and he followed his instincts. Follow your gut or your instincts but if you cut a corner now you will pay later and it will hurt more.
So, we lost another two weeks as the oil pan came off, the new distributor goes in with a new gear and then all new gaskets and oil. Yes, I sent him points, a new cap, rotor and wires and of course four new plugs. Electronically we wanted everything new. The inside of the engine looks pretty clean having been sitting for twenty five plus years but now.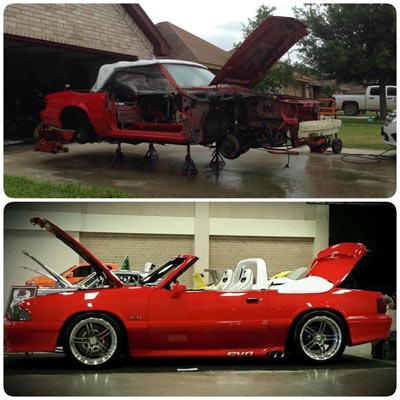 He and I can go to SEMA knowing I have new tires, tubes and liners. New brake shoes and all the hardware both front and rear. New steering parts underneath and a new restuffed drivers seat. The dash has been in and out to be wired correctly and he will be soon into another issue.
He will make a headliner and door panels. He already made a floor as the wood floor that was there was a bit worn out after 88 years. The headlights work good even though I doubt it will ever be driven at night and the one rear tail light works fine. The untested part is the radiator.
The car has not run long enough to see if it leaks or needs to be re cored. Water pump as well as hoses have been replaced and the ten gallon gas tank has been in and out to be sure it's clean. The steel body and frame are original as well as the engine, transmission and rear end. Of course it steers like a ship and with its mechanical brakes plenty of room is needed to stop the jalopy.
No, I was not going to go the way of juice brakes as that is not the way it came. I also did not update to twelve volts. I didn't on my Chevy truck and certainly would not do it here. I am all about originality and unless I was having him build a hot rod, this car is to be as near as it was from back in 1928.
The moral here is never quit, never quit, no matter what life throws at you. We all have some issue here and there and it's easy to make up reasons to quit. It's harder to keep going but worth the struggle when you are done. Keep up the fight!
More Muscle Cars For Sale – http://fastmusclecar.com/muscle-car-for-sale/
Donate To Fast Muscle Car
We spend a lot of time bringing you muscle car content. If you would like to donate something to help us keep going, that would be fantastic.