Muscle Car
How to Revitalize Your Muscle Car After a Collision
By
|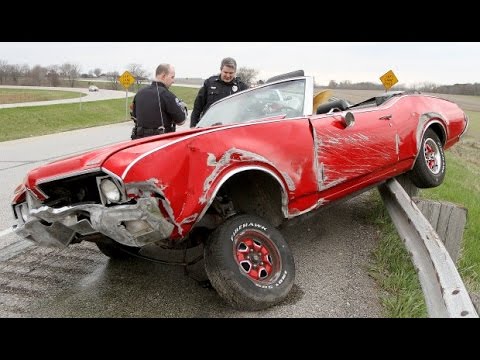 According to the Association for Safe International Road Travel, car collisions have cost at least $518 billion globally. We can only imagine the cost that each collision causes, especially in terms of hospitalization fees.
Notwithstanding the toll to life and limb, it is difficult to determine if a vehicle is still road-worthy after a crash. Some are fortunate to get away with minor dents on their muscle car, but what about major damages that will render the car almost useless?
You can always give your muscle car a new life no matter the severity of an accident it found itself in. You just have to look at a few important tips to help your muscle car get back on its wheels.
Contact your insurance provider
If an accident has totaled your car, you may need to file a claim with your auto insurance provider. Prior to this, you should have reviewed the terms of your policy and get an estimate on how much you will be entitled to. In the event of an accident, your insurance provider will assign someone to handle your claims. So long as all your documents are in order and you have all details about the accident recorded, you should be able to get a settlement. To be sure, look for an insurance policy that caters to different types of muscle cars.
Look for the right repair center
Your auto insurance policy should provide you with a list of accredited repair shops within your community. When it comes to your muscle car, you will have to go through the motions of picking a local auto collision center in, say Toronto, that also specializes in muscle cars. Depending on your insurance provider, though, you may want to keep a list of establishments that issues bids for repairing your vehicle. At any rate, you are guaranteed quality services knowing that your insurer will always recommend the best shops for your needs.
Get an estimate
When your muscle car gets damaged in a no-fault accident, your auto insurance provider will go after the other party and make them pay to offset a part of the cost of repairing your car. Otherwise, you may need to file an uninsured motorist claim.  Either way, it is important that you get an estimate on how much the repairs will cost. This will give you a good idea of the deductibles you may need to pay out of your own pocket.
Get the right legal professional
Filing for insurance claims and getting your car repaired after a serious accident is an uphill battle. There's the risk of the auto insurance provider not approving your claims or the insurer of the other party refusing to pay up. At any rate, such problems will initiate a lengthy legal battle where choosing the right lawyer will make all the difference.
Your muscle car is a thing of beauty, but knowing the dangers that lurk on the road should give you a good idea on what to do to have your vehicle fixed.
Donate To Fast Muscle Car
We spend a lot of time bringing you muscle car content. If you would like to donate something to help us keep going, that would be fantastic.