News
How To Get Colored Smoke From Your Tires
By
|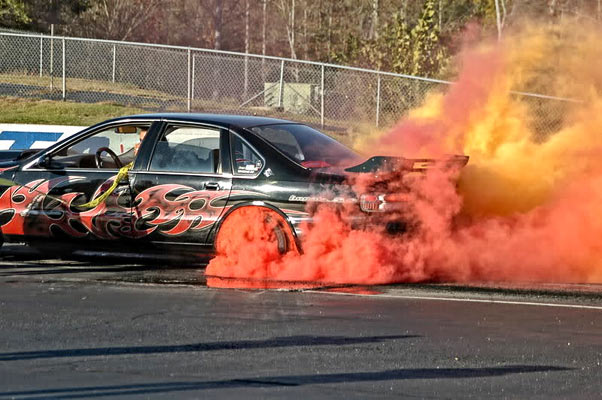 I was speaking recently with some of our Australian muscle car cousins, who showed me a bunch of videos and images of their burnout events where are all the muscle cars in question were spitting out gobs of coloured smoke.
They said it was quite common for all the colors of the rainbow to be coming out of the back of a car and they wondered why they didn't see more of it in the US.
This made me get my Sherlock Holmes cap and pipe on and start a bit of investigation.
Not as common as you think.
The guys gave me the URLs below for some Australian websites where you can buy 'colored tires' ( it seems to be a dye that is impregnated into the rubber) and it seems the most popular make of colored tires are kumho (Their website mentions 'colored smoke tires', but no link to anymore information).
I thought, 'this should be in easy task' America is still the king of burnouts, so it can't be that hard to track down these things. The reality, it was a bit harder than I thought.
http://www.thewheeldeal.com.au/index.php?cPath=279_320
http://www.highwaymax.com.au/index.php/products/17-inch-tyres-2
I could find plenty of forum posts that talked about colored smoke tires, but nowhere that sold them. Tirerack.com show they stock them from a Google search, but I couldn't find any on their website.
I tried a few others and still no luck…..hmmm.
What about eBay? That threw up some colored smoke bike tires, but obviously no use to us.
Basically, at this point I couldn't find anything from an online search. But this doesn't mean they're not out there, I just found it difficult to find any, which means it's down to calling tire shops and seeing if they can get hold of any.
If you are inspired to get some colored smoke burnout tires, you will have to do some digging around for some 'kumho colored smoke tires', even import them, but they are out there somewhere, so let's be inspired by the Aussies and see if we can chuck out some rainbows from our burnouts.
It just may take a bit of time and money to produce your own rainbows.
Click for More Muscle Cars For Sale – http://fastmusclecar.com/muscle-car-for-sale/
Donate To Fast Muscle Car
We spend a lot of time bringing you muscle car content. If you would like to donate something to help us keep going, that would be fantastic.