Muscle Car
Hotrods: Can You Chop Tooo Much?
By
|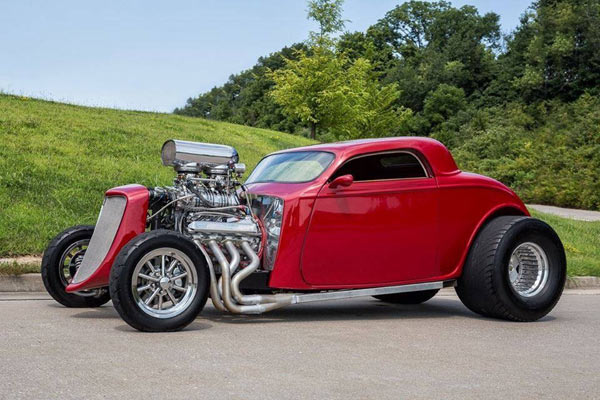 By Mark Weisseg
It's a lazy summer afternoon and I am planning for the October Mecum Auction. Once I recover from that it's the last trip to SEMA for me. I was reviewing some web sites and this monster popped up on my screen. Jokey Smokes I thought as I studied the blower and all the pipes. Can this driver even see out the window?
I know the car is really a bad ass looker but can you see what you are hitting? I guess a builders imagination can take him or her anywhere but I had the privilege of seeing one of these beasts at a local car show this year. Actually, I heard it before I saw it. I was sitting resting my very tired and sore back and I heard this nasty roar coming from my left. As I stood up I saw a car like this one crawling into the show. You know the drill. When you arrive someone needs to greet you and give you pamphlets you'll never read. After the beast found his parking spot ( between the white lines too) I wandered over to see the Machine for myself. Someone had chopped the roof of course and tilted the seat so the driver could see where he was going. Then, someone put a huge and I mean huge blower on top of the engine. It's a master piece for sure as it whined in glee.
Now, I was not about to ask the owner if I could get in the beast and see for myself what he cannot see but I studied that hunk. I came to realize the driver needs a co pilot to tell him where to turn, to slow down, or where to guess where he is driving. The co pilot could say, " are you in Cleveland or Kansas". The driver would reply, "yes".
Now, like all of you I love our classic cars and the faster and meaner the better but Jiminy crickets folks we need to be safe and smart about it. Now, I don't want to sound like an old man who needs to adjust his suspenders but we must limit our craziness to some level of nuts. What is to stop us from making the blower six feet in the air? Where is the limit? Well, that limit comes in the form of that dirty word in business called PROFITS and as for our cars it must be legal and within the sane limits. We all strive for something different or something out of the norms of the boundaries society has set up.
On the other hand a chopped ride always looks cool. Almost the lower the better, but if you have to drive it, you have to take this into consideration.
If it's just a show car, then why not. If you intend to drive the thing regularly, this needs to be a consideration.
Just consider your end goal before you think about chopping off another 6 inches.
More Muscle Cars For Sale – http://fastmusclecar.com/muscle-car-for-sale/
Donate To Fast Muscle Car
We spend a lot of time bringing you muscle car content. If you would like to donate something to help us keep going, that would be fantastic.