Best Muscle Cars
High Mark up Prices for a Dodge Charger Hellcat Widebody Daytona Edition
By
|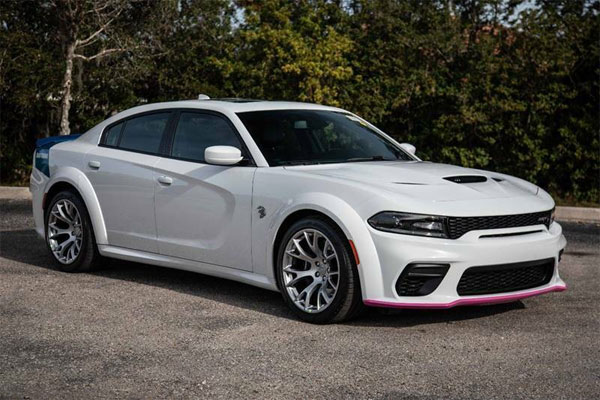 By Dave Ashton
If you fancy all the yest of a hellcat engine, but in a more practical vehicle, than the Charger Hellcat is the way to go. Four doors and a reasonably sized trunk are the practical parts, but if you wanted to bolt on limited-edition status, than the latest Widebody Daytona Edition is a possible option.
Limited to only 501 units means these things are in short supply, which has led some dealers to slap on extra large markups for the privilege. Some online reports have said around $114,215 is being charged, which is a marked difference from a regular 2020 Dodge Charger Hellcat Widebody which has a base price of $73,240, along with the $2100 gas-guzzler tax.
The vehicles have been built at the Dodge plant in Brampton, Ontario, with a slight power increase of 10HP, upping the total to 717HP. The Daytona package itself comes in at $4495, which even with a few additions like navigation and power sunroof options, is still far less than what some dealers are charging.
Dodge don't really have a say in how much dealers can charge, as each dealership can price up their vehicles as they feel fit. This has happened in the past with the Dodge Viper, Dodge Demon and even with the new Corvette C8, but this only means more shopping around duties for us customers.
Jump on a few forums and there are lists of dealerships that sell at sticker price, but even with a quick hunt around that eBay, I found a Daytona Edition (as featured in the image here) for $96,500.00 having done only 16 miles. Still, not exactly cheap for a Charger Hellcat Widebody, but you can at least justify the extra here for the limited edition status.
As long as you don't pay too much over the odds, a limited run of 501 units is going to pay off in the future. You may have to wait a few years for the hype to settle down, but the value of the vehicle will slowly increase over the years. Plus, as this model is to celebrate the 50th anniversary of the 1969 Dodge Charger Daytona, it feels a little more special than Daytona editions of the past. Also, it's the first Daytona Edition to feature the Hellcat engine.
Tempted?
Donate To Fast Muscle Car
We spend a lot of time bringing you muscle car content. If you would like to donate something to help us keep going, that would be fantastic.