Best Muscle Cars
Ford Mustang Shelby GT350 vs. 2020 Toyota Supra, BMW M2 And Porsche 718 Cayman
By
|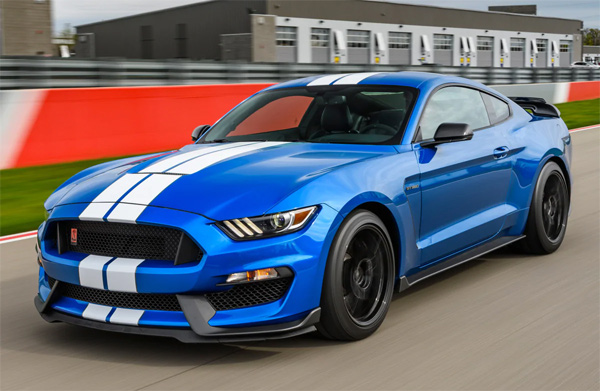 By Dave Ashton
For the individual who wants a high-performance sports car, obviously we're going to be pushing forward the Ford Mustang Shelby GT350 as the top of the heap. But, in the real world car buyers can push their money in any direction they like. Thus, group comparison tests are always a nice measure to see how each vehicle stacks up against the rest.
In this case its the 2019 Ford Mustang Shelby GT350 which is going up against a 2020 Toyota Supra, BMW M2 and a Porsche 718 Cayman as documented over at caranddriver.com. Its not just a chance to check out four modern, potent sports cars, but also in the setting of the Sequoia National Park of all locations.
On the surface, the slugfest could be seen as America muscle versus Japanese and German engineering. However, it's not old school muscle car engineering from the late 1960s. This is up-to-date pony car tech. on the GT350, proven by how well these things are selling in Europe, compared to the other three.
The GT350 sports a flat-plane-crank 5.2L. V8, making 526BHP, through a six speed manual transmission, with added bonuses via the Handling package. This adds a rear spoiler Gurney flap for more downforce and adjustable camber plates topping the front struts.
So, now it's down to running these cars down the winding roads of a national Park and seeing which one comes out on top. Obviously, as a muscle car website we wouldn't be talking about this unless the Ford Mustang Shelby GT350 came out on top. But, the review is cementing why the GT350 is proving its worth against the competition. It's a good idea to read the full article over at car and driver.com to get all the details, but the last sentence kind of sums everything up nicely, 'none is as raw or as alive as the Shelby GT350.'
This is exactly why the GT350 and the Mustang GT are selling so well, especially in Europe. They are basically a welcome change from the usual crop of performance sports cars. Sticking to those old muscle car principles while heaping on modern driving specifications has brought the old and new principles together exactly as it should be.
If you're in the market for a potent, modern sports car, then it might be worth checking out the GT350.
Donate To Fast Muscle Car
We spend a lot of time bringing you muscle car content. If you would like to donate something to help us keep going, that would be fantastic.