Best Muscle Cars
A Ford Mustang Forest Find
By
|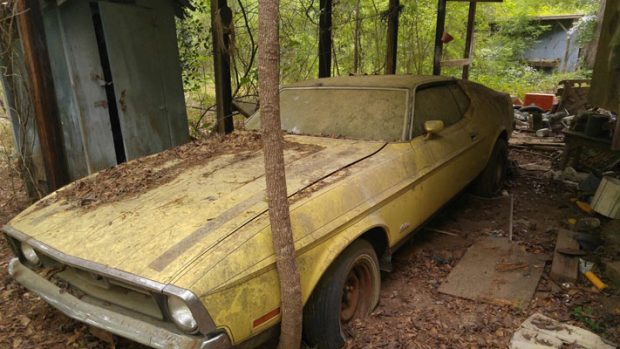 By Mark Weisseg
Just another example of a A Ford Mustang Forest Find in our great land. Now, some love this style of Mustang but I am not counted as one of them. The only Mustang worse to me is that Mustang II that I thought at the time might be the end of the line.
My sister in law had a new Mustang II and she loved that little red Stang with the 302. I just could not like it and I just cannot like this style either. I do know some guys that would hike 50 miles through thick brush and no water for one of these. Me, I would stay home. But, the picture provides another example of what is out there if you look beyond your immediate eye sight.
Just yesterday we were looking at a farm for sale and there is a very old worn out barn on the property. The seller informed me that many moons ago a guy stored his car collection in the barn and even today there are car parts in there. So, if we buy this farm I guess I inherit the car parts too. My point is simple and clear. Up until yesterday on a whim did I decide to follow through with going to this place.
I never knew there was a barn there let alone one with old car parts. Now, if I buy this place the car parts are not my priority. But, the real deal is that I never would have known any of this unless I made a fire under my butt. Does this give you hope? Well, it should and it revitalized me as well. What else is out there that I don't know. Well, the seller of this farm told me his brother in law just passed away. The guy had a bad pain in the back and finally went to a Doctor. Thirty days later or so the guy was dead. He left behind a 69 lime green Super Bee that will be sold. Oh, and the seller mentioned he knew of another guy close by that had three Shelbys in his garage. Folks, this is all within ten miles of my current home and I had no idea.
I felt like a student of stupid as I pride myself on knowing things like this. Right in my proverbial back yard as well. When we left I was speechless for once and had a hard time concentrating on the world around me. Am I dreaming all this or am I fully awake and that dumb? Well, I was awake and I felt stupid that these treasures are at my feet. Now, I know you cannot have everything you desire in this world but certainly it's a very good thing to be in the loop about. I mean the seller of this farm was drooling all over my Road Runner. Should I offer it to him? Who else does he know? What is he not telling us about other cars?
The Mustang in the picture is not my cup of tea but it proves that these babies are still out there waiting for you to find the and rescue them from the rust and decay that easily works itself into the steel horse we call a car.
Check out our Muscle Car T-Shirts! – http://fastmusclecar.com/muscle-car-t-shirts/
Donate To Fast Muscle Car
We spend a lot of time bringing you muscle car content. If you would like to donate something to help us keep going, that would be fantastic.