Best Muscle Cars
A Guide to Tracking Your Muscle Car
By
|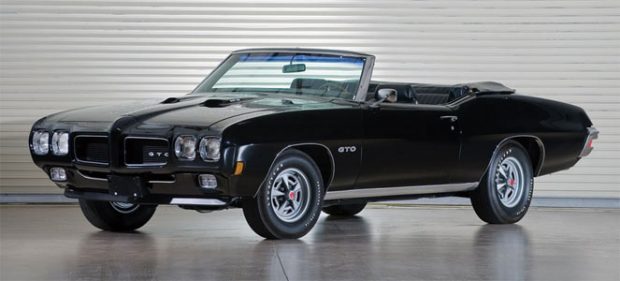 GPS is literally everywhere, we use it in our computers, cars, phones and in several devices to prevent loss, increase productivity and even to keep our kids safe. The advanced technological era we live in relies heavily on GPS technology from navigating airplanes, and even in military applications and by emergency crews to locate people on the ground.
But before getting in how GPS vehicle tracking devices can help locate your muscle car and save you money on vehicle insurance, it is best to understand the science behind GPS technology.
GPS Technology – Quick Primer
GPS is short for Global Positioning System, and consists of at least 24 satellites that are spread across the earth. These main satellites are able to communicate with specialized receivers on the ground to render the exact location of the receivers. Today, there are 31 GPS satellites in circulation, which were first put in place by the US Military in 1989.
Each of these operational GPS satellites transmits two signals, one for its own use and another for anyone with a GPS device to access. The signal emitted from GPS satellites towards earth include their precise location and time as measured by an atomic clock. When a GPS device picks up a signal from at least three satellites, it can use a process called trilateration to figure out exactly where it is.
When a GPS vehicle tracking system receives this information, it will be able to then configure your location, speed and direction of travel. What happens next will depend on the type of GPS tracking system you have whether active or passive GPS.
How to start tracking your vehicle
Purchasing a tracker online
When shopping for a GPS tracker for your muscle car, you will be presented with two options. Passive and active car trackers. Knowing the difference between the two will help you decide on the best option for your vehicle.
Both passive and active GPS vehicle trackers feature GPS technology, but the former does not monitor movement in real time. Therefore, you will not be able to follow every move your car makes. Instead, GPS tracking information is stored in the inbuilt memory of the tracker, and can be downloaded and viewed at a later time.
Compared to passive trackers, active GPS tracking devices allow you to view tracking data in real time. Once you place an active tracking device in your vehicle and have GPS data turned on, you will be able to view speed, location, stop duration and any other tracking details, all from the comfort of your home.
Although, both types of GPS tracking devices are extremely reliable, we generally recommend active trackers to keep the security as high as possible on your muscle car. Some active and passive trackers may even come with monthly fees so it's best to compare the devices when buying a GPS tracker online.
Further, if you're going to be driving your muscle car around in inclement weather, it makes sense to buy a GPS vehicle tracker that's waterproof especially if you plan on installing it on the outskirts of the vehicle. Regardless of the type of tracker you buy whether passive or active, it is highly recommended that you check out how it renders tracked data.
Most of the best GPS vehicle trackers come with dedicated mobile apps that allow you to see where your vehicle is with the push of a button. Other vehicle tracking devices let you send an SMS to the GSM number in the device to gauge your vehicle's location, speed etc.
For more information on the best GPS trackers for your car please click the link.
Getting a SIM Card for your tracker
The first thing to note here is that GPS vehicle tracker SIM cards are no different than the ones you insert into your mobile phones aka GSM SIM cards. Data usage completely depends on the type of tracker and how often you use it, but a minimum 100mb of 3G data works great. If your vehicle tracker supports SMS tracking, it is a good idea to add a bundled SMS pack that gives you 50-100 SMS for one low price. This will most definitely last you for up to a year of tracking.
Brief installation instructions
GPS vehicle trackers for the most part are small in size, meaning you can carry them around in your purse, place them in tight spaces in your vehicle or even place them discreetly in your kid's backpack to track their whereabouts. Given their compact footprint, these devices are easy to install. Some connect to your vehicle's battery and others are fitted with a rechargeable battery for power. Whichever tracker you buy, there will be detailed installation instructions coming with the device.
Making the tracker pay for itself through insurance
This is where your investment in a GPS vehicle tracker literally pays off. With the rise in auto theft and consequent surge in insurance claims, some auto insurance companies provide great discounts up to 35 percent. And this is above and beyond car alarms and other security measures you may have installed in your vehicle.
Features to consider when buying a Car GPS Tracker
Live Tracking and History Log
Just as the name suggests, this feature is available in most active GPS trackers, allowing you to track your vehicle in real time. Some even come with some inbuilt memory capacity that stores GPS history for you to view at a later time.
Battery Power (wired or in-built battery)
GPS devices can be powered by either an integrated rechargeable battery or hard wired to your vehicle's battery. If you have more than one vehicle it is best to invest in a battery powered tracker simply because they offer superior portability.
Even wanted to be alerted in the event you vehicle is tampered with or in a crash? There are several GPS tracking models that can be configured to alert you in the event of an impact, such as when a thief attempts to forcefully open your hood.
This feature allows you to configure a particular speed limit, and then alerts you when that speed has been breached. If you have a teenage driver or a new driver taking the wheel, having the over speed alert feature is a great way to keep them in check.
Just like the shock sensor, the tow alarm feature alerts you in the event your vehicle is towed. The device realizes the vehicle is moving without the ignition engaged.
Most if not all GPS vehicle trackers are literally a no brainer to use. Further, their respective apps come with intuitive interfaces and are easy configurable to suit individual needs.
Conclusion
Whether you drive a muscle car on or off the track, the reasons for getting a GPS vehicle tracker are too many to list. The best part of all is that apart from allowing you to know exactly where your vehicle is at any given time, insurance companies reward you for just having them installed.
Donate To Fast Muscle Car
We spend a lot of time bringing you muscle car content. If you would like to donate something to help us keep going, that would be fantastic.