Muscle Cars
Finding More Abandoned Muscle Cars
By
|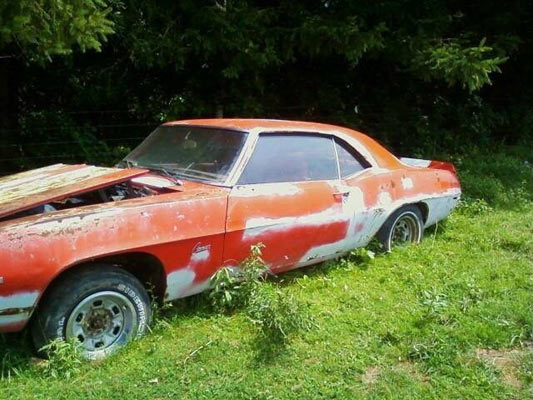 By Mark Weisseg
Old abandoned muscle cars are still out there and this one proves the point.
This old orange car cannot be to far removed from the road or is it? I mean lets study the facts. White lettered tires on the front and white walls on the rear. Clearly someone was thinking. Then, the ever popular bondo on the side with the gray primer. Don't you just love the genius that proclaims himself a body man and does this to a car.
He does the bondo work, sands it smooth and sprays the primer on the car. Then, nothing. Is it a badge of honor to never go any further? Are you impressing people with a skill set that you can be a body man but never paint the finish? It's like installing a toilet and never hooking up the water supply. What's the point?
Clearly this car is worthy of a restoration project. Not too many people would walk away from this project. One of the only faults I can think of that I have is being impatient. Now, if I thought about it more then the list would be endless. But to park a car like this and just let it sit for years is out of the question.
It reminds me of all the idiots that buy a 2005 or 2006 Ford GT with all four options and never drive it. Why? Resale money.
So, you bought one of the best cars ever built but never drive it? Stupid. It has wheels, drive it. I saw Mecum over the weekend and like other auctions the Hellcat Challengers were on there. You know what's coming. Someone bought these really cool cars and never drive them in hopes of scoring big already. It's too early for the market to repay so drive it. Enjoy all 707 horses. But, going back to this orange Camaro. They bought it, they drove the wheels off of it and they the owners loved every minute of it. Golly Gee, unless it is a rare supercar drive the thing until it is weed time. Then let someone else pay you for all the fun you had and let them restore it and drive the heck out of it.
If you spot a car like this, tell someone about it, f you can restore it yourself. let's get all these abandoned muscle cars back on the road is one day in the future this site may be a thing of the past.
More Muscle Cars For Sale – http://fastmusclecar.com/muscle-car-for-sale/
Donate To Fast Muscle Car
We spend a lot of time bringing you muscle car content. If you would like to donate something to help us keep going, that would be fantastic.
Finding More Abandoned Muscle Cars

,