Muscle Cars
Muscle Car Talk: Fast Muscle Car Boat Hauler
By
|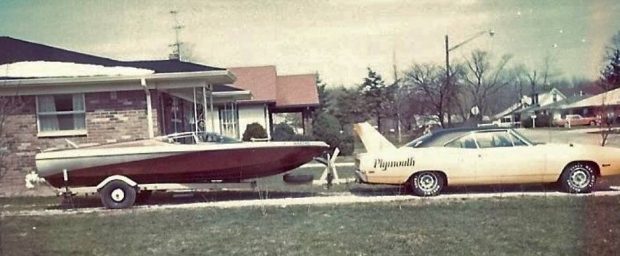 By Mark Weisseg
I have written several times before about the cars we treasure today as daily drivers back in the day. These are the same cars we do not want to get wet from rain and heaven forbid, a flake of snow hits the paint.
Back in the day these classics were treated better than our spouses at times. I have highlighted the Superbird especially with studded snow tires, a trailer hitch, hacked up body work and so on. Things that today would get you banned from society and to never be forgiven.
My 69 matching numbers Roadrunner is B5 blue with a blue interior and a white vinyl top. I have never seen another one with this color combination and even after checking and decoding the fender tag I found the car to be as it should be. I know of the previous owner but that is all. With today's privacy laws it is almost impossible to back check for the previous owners. So, like an old man searching for his lost puppy I scan all the Mopar sites so I can get lucky. Lucky in that somehow, somewhere I will see a picture of my car or another with the same color combination.
But, in the meantime I just giggled to myself when I saw this picture of the Bird pulling a boat back in the early 70's. Today, this is unheard of. You would pull the boat with your truck or SUV and the Bird would be under lock and key due to the value of these cars.
I just cannot imagine pulling a trailer, boat and using any of what we term as a fast muscle car today. First, you would need your head examined because the value of our cars has really jumped. Can you imagine saying, "let's go camping and I will get the Yenko Camaro ready to pull the Airstream". I think before you got out of your neighborhood someone would pull you out of the car and beat the senses back into you.
However, think of all the toys and other items we consider collectibles today that we just threw away or sold at pennies on the dollar. If I could find a Eco air Meter today for a reasonable price I would buy it right away. I remember us just trashing them when they broke. Gulp. I mentioned to someone recently I would like to have one of those British phone booths for my collection. Good luck I was told. So, when you hear those famous words, never been in rain, never been smoked in, never saw snow, just take a deep breath and smile.
Remember, few of us back in the day bought these cars and set them aside figuring in 45 plus years from now they would be classics and cherished by all. Nope, Chargers like this one were driven daily to all sorts of events come rain, wind, snow, and whatever else Mother Nature came up with. We just got in and drove them. Usually, we sod them off once the Milage got to high or a young teenage kid bought it as his first car to make his own. Many landed in a bone yard or just a field.
The point is to love and cherish these cars today but be careful of your bragging rights unless you are the original owner or happen to be the brother, son, or such of the owner and can claim that. Heck, it even rains in Arizona and Las Vegas at times so let's all step back and tell the truth. Such as, " to the best of my knowledge" or " as far as I know" or " since restoration ". That will be an easier pill to swallow.
Heck, I cannot even find out who owned my 69 Roadrunner other than me and the guy I bought it from. Other than that it is a complete mystery and most of us have no way of finding out who bought your car new 46 years ago and who owned it along the way until you got your hands on it.
More Muscle Cars For Sale – http://fastmusclecar.com/muscle-car-for-sale/
Donate To Fast Muscle Car
We spend a lot of time bringing you muscle car content. If you would like to donate something to help us keep going, that would be fantastic.