Muscle Cars
Car Talk: Welcome To The World Of Car Restoration At Home
By
|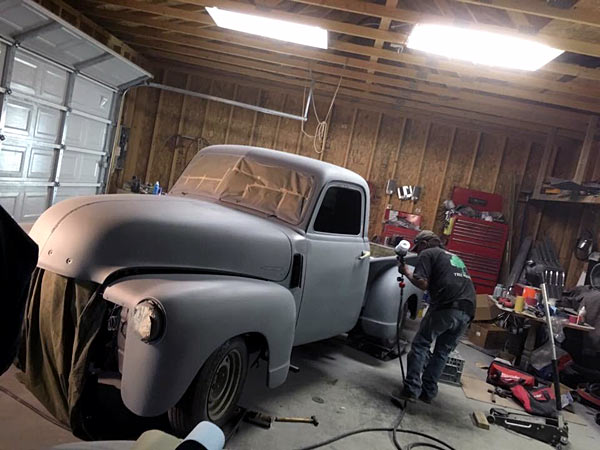 By Mark Weisseg
This is the real world of restoring your classic in the family home. It's lonely at times and the only noise you hear is the air compressor, the grinder, and the buzz of the overhead lights. That and your mumbling under your breath.
It's tough. If you have a radio to kill the boredom, it seems you listen to the oldies or the classics. We all know you will hear the same songs by the same groups over and over. There is no point calling the garage the garage when you are in the midst of a restoration. It is now the shop. You have tools everywhere, parts scattered and what was once a place for lawn care equipment is now shop supplies. Friends drop by for encouragement, neighbors stick there noses in at times, but normally you are in a world to yourself.
The dirt and grind
You smell of chemicals, paint, body putty, grease, grime and sweat. When you come in at the end of the day you are too tired to even take your clothes off for the shower. Maybe you turn on the TV a bit but you and I know your mind is still in the shop. You go through the what if's, why, ho, and when's. You are tired and wonder what you will do next. Your old body is tired and sore. You feel you are the only person on earth doing this on a Friday night. You put your head up against that old lazy boy chair and take a deep breath. It seemed like such a good idea but your body is sore. You cannot shake off the soreness like you once did. You are not eating the right food and you certainly should drink more water to stay hydrated. Knowing tomorrow is another work day at the real job really bums you out. Did you ever notice people ask more questions of you when you are the most tired? Everyone says, "if you need a hand" but they are never around when you do?
Its all worth it
Sometimes you need to go deep into yourself and talk yourself into doing this another day. You swear it's the last time you will do this. It's the same thing you said about the last two puppies. When you open your shop door every night you hope the restoration fairy worked on the project while you were at work. It's so hard to get started every night but once you get going it's not too bad. Everyone has an idea or a suggestion but of course you are the one doing all the work and paying for it. Friends show up once in a while and do a minor task for you like pump the brake pedal to bleed the lines. Then, they brag they helped you and make up a big story that they helped you out of a jam. It's all just part of the large cog we know as the project. Just fifteen more minutes. That turns into an hour. Finally you realize it's eleven pm and way past bed time. As you walk to the door into the house you flip the switch down and the shop goes to sleep.
Like a good gym workout, its so worth it in the end.
More Muscle Cars For Sale – http://fastmusclecar.com/muscle-car-for-sale/
Donate To Fast Muscle Car
We spend a lot of time bringing you muscle car content. If you would like to donate something to help us keep going, that would be fantastic.