Muscle Car
A Drop Top Ford Mustang Temptation
By
|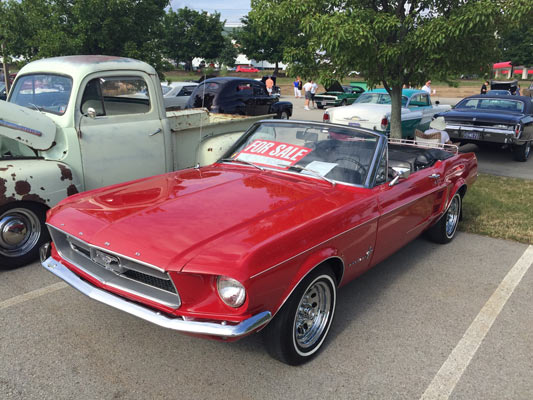 By Mark Weisseg
I was tempted to see this one a bit closer. I kind of, sort of want a convertible and this one was for sale.
It is a 1967 and it was a 289 with an automatic transmission. They were asking $16,700 for some reason but I figured I would give it a quick look over. If further interested it would of course go on a lift and I would take a deep dive.
First a walk around to look at the body and paint. It clearly was repainted at some point and done well. I crawled underneath the best that I could and could see many parts have been changed or updated.
Under the hood the little 289 looked a bit tired but they at least wiped it down.
The interior was the standard black carpet, black seats and original dash. The top was folded down and looked ok.
I did not ask him to put it up and down for me at this point. He gave me a verbal list of things he has done on the car and a few things he said should be done. Overall it was an ok car.
He asked me if I had a car there and I replied I was one row over from him and to come over and see my Shelby. Well, that changed the conversation a bit as now he understood better I was not a complete cluck. He spoke of his love for the car but wanted something else at this stage. Something with a few bells and whistles and something that is a better road car. Road car?
Well, what he wants is a modern style car that has the classic looks but some creature comforts as we call it. I can appreciate that statement as my old bones need that as well. When I drive some of my "originals" I feel old after a few hours. It's just a fact of an older body that has been beat up for many years finally telling you to slow down.
So, after much talk back and forth I made my decision. I walked away. I really desire a '66 or '67 Convertible and this one was a candidate. However, he was priced too high and said he was not moving too much. The other main issue I had was everything was tired looking. The car is in need of a good sprucing up and I knew that meant new carpeting, new top and a body buffing to help bring out the shine again if possible. Again, I could not see the underneath clearly but what I did see was just a bit worn looking. Yes, he parked it in the winter but it looked like he has not done much if anything but pull it out of the garage in spring and drive it.
I did not want to pay that kind of money and then find myself tearing another car down. It would be costly and very timely. I want one that is in better shape than this one and ready to go. Ironically there was a '66 drop top near this one on display. It was not for sale but it was everything I want. He is part of our local Mustang club but I did not know him personally. I dropped a few names and gave him my card so if he changes his mind I would get first crack at it. We shall see what if anything transpires on this but I always like you keep my head on a swivel. You never know do you?
More Muscle Cars For Sale – http://fastmusclecar.com/muscle-car-for-sale/
Donate To Fast Muscle Car
We spend a lot of time bringing you muscle car content. If you would like to donate something to help us keep going, that would be fantastic.
A Drop Top Ford Mustang Temptation

,