Muscle Car
A 1969 Chevrolet Camaro Z/28
By
|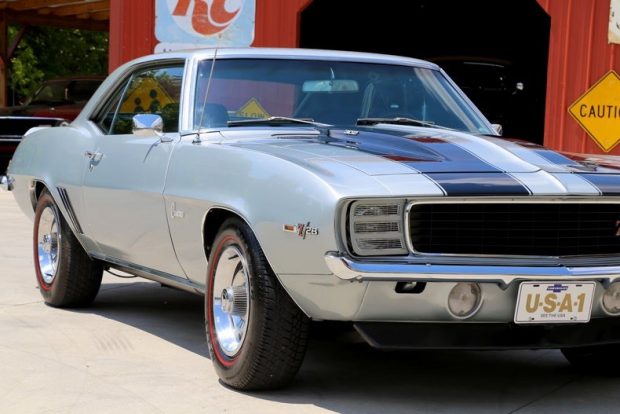 By Mark Weisseg
This beauty is a 1969 Z/28 it appears to be what the Doctor ordered. Or is it?
Like you I see these cars all over the cruises, auctions, and Internet. The people that love these cars love them no matter what's under the hood. We know the 302 with a four speed is the best connection but with today's crate engine market who can tell.
I saw one recently with a 502 under the hood and it was special. These Z cars are always in big demand. Find a Yenko or a COPO and the prices sky rocket. So, the question remains should you buy this sweet ride for about 45k or hold out and buy the new Z/28's?
It's a tough choice as the new ones are miles ahead of these older models in every category except coolness. You will get more eyeballs with this '69 versus a 2016 or 17. Should you care? It's a fair and great question.
If I drive my older Mustang I get the looks and thumbs up. But, after about two hours my back hurts and it becomes a chore to drive. I jump in my newer Shelby and I do not get many eyeballs but I can drive that bugger all day and not feel whipped. So what's a girl to do? You figure it out.
Maybe if you can afford both you already did. But, if you can only swing one Camaro you have a big choice to make. Clones, replicas, tributes are all over the place. Even the under belly of the business is in on the act. They will rebuild a regular Camaro and push it off as a real deal Z car or such. The bad people are very good at this.
My advice is that if you are going to spring for the real deal you take along an expert. I mentioned before I have a friend who is a Corvette expert. If I were to buy any used Vette he would need to come along for the ride. I honestly have never in my life seen so many tributes and clones. What is car that is cloned the most? Hmmmm. Well, it's the old Shelby Cobra.
Sales of these knock offs are very strong and the cars are very reasonable in price. Most of us do not have 800k to over a million bucks for a real one so why not enjoy a copy for 60k? There is nothing wrong with that as long as everyone is on the up and up. You can drive a car just like the real one for a budget price. I scan the web everyday and I look at companies like this one as well as Vanguard, fast lane, Gateway, and more. They have great inventories and appear to be selling fantastic cars and trucks. Business is strong right now for those companies. Reputation is everything in that business. I will bet you that when I return from SEMA this year I will have a briefcase full of dealers and builders that will locate anything you want. Or, build you exactly what you want. These are golden times for these types of dealers. The inventory is stunning.
That brings me back to my original thought. Must you have the classic car you could not afford 40 years ago or do you just buy the new ones and enjoy all the creature comforts? It's a tough choice and I have faced it several times. I will tell you this however. Dealers make the choice easier. It's very tough to walk away from a car you dreamed about 40 years ago. Like me, you must have it to get it out of your system. My advice? Go for it and go classic. You can always trade up or in at a later date. Get it out of your system once and for all.
More Muscle Cars For Sale – http://fastmusclecar.com/muscle-car-for-sale/
Donate To Fast Muscle Car
We spend a lot of time bringing you muscle car content. If you would like to donate something to help us keep going, that would be fantastic.
A 1969 Chevrolet Camaro Z/28

,