Muscle Car
Does the DeLorean qualify?
By
|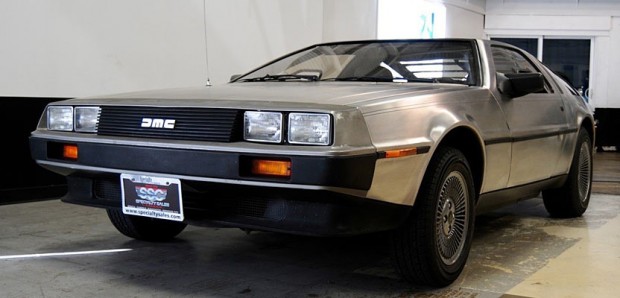 By Mark Weisseg
The Delorean or DMC was a hit back in the 80's due to the movie, Back to the Future. Seemed everyone wanted one, even though the car was a fair car at best.
John Delorean from GM or really the Pontiac GTO car, was the man behind the DeLorean car. He put everything he had into the development of this car, including some bad decisions that lead to his downfall.
The car did not last long and I can tell you that I drove one and I worked on them.
I have a guy that lives close to me that has one and has been trying to sell it softly for a couple of years. His asking price jumped a bit with the anniversary of the car this past year but, I noticed recently it was still in his garage.
I remember driving the six cylinder engine and being very unimpressed with the power. If the car sat in the sun the body would become red hot due to the stainless steel. I was in one on a hot day and when I pulled back into our shop neither of the power doors would open. There are no windows to roll down either and without the engine running the car quickly became an easy bake oven.
When the general public sees one, they smile and they love to touch it and talk about items only the movie car had. I can say at our very large car show it is rare we get a DMC. I know there are big collectors out there and a national club to honor the car but, honestly it is not worth it, unless it is just a show car. There are just simply better cars to choose from if you wish to drive regularly.
The car lacks power and speed. It does not corner well and certainly never made it to classic status. It just made it to old status now.
The car really cannot be modified or resto moded much due to the body. It's one of those cars best left alone. Cramped inside and the quality is fair. The gull wing doors were cool like a gull winged Mercedes but, this car never even comes close to that level of quality and standards.
If my memory is working I think they made this car two or three years without much change because they didn't have money or big time backers to move this odd car along.
So, it died a quick death and the ideas man, John Delorean sadly, was in big legal trouble.
However, all the above is irrelevant if you're a fan of the Back To The Future movies and so many are.
For a certain generation, the time travelling DeLorean icon from the movie is all that matters. It's almost irrelevant if it was any good in real life.
The thoughts of a flux capacitor, time travel and flames left on the road, are enough. It's the symbol of what it represents, rather than what it was like in real life that is the point here.
Maybe we got it wrong and its future muscle? Only time will tell……
For all muscle car parts – http://fastmusclecar.com/muscle-car-parts/
Donate To Fast Muscle Car
We spend a lot of time bringing you muscle car content. If you would like to donate something to help us keep going, that would be fantastic.