News
Dodge Demon vs Lamborghini Aventador Drag Race
By
|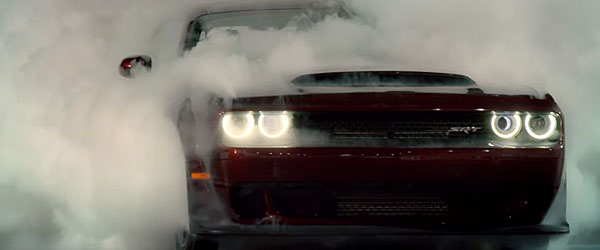 By Dave Ashton
While the majority of us are currently locked down with no place to go, we can always revel in this quick matchup between a Dodge Demon and a Lamborghini Aventador. This video comes from Series 25 of Top Gear where Matt LeBlanc provides mostly an overview of the drag monster that is the Dodge Demon. This, along with giving us a few surprises for the uninitiated of what exactly the Dodge Demon is capable of.
The usual specs. for the Demon are given, such as the 840hp, a 0-60mph time of 2.1 seconds and our own additions, a total weight of 4,280 lbs and a 1/4 mile time of 9.54 seconds at 140mph. A few other stats are thrown into the mix, along with how you can spend one dollar on the Demon crate and how the Demon is not exactly the most adept at cornering, at least compared to a supercar. But, the focus here is the matchup with the Lamborghini Aventador and how the two perform down the dragstrip.
We don't care about spoilers here, with the point being the Aventador gets completely spanked in the Dodge Demon's home territory. If this was around a winding track then the Aventador would definitely be the winner. But, that's not the point here. The point is to show that the Dodge Demon is unapologetically optimized for straight-line speed. Plus, for the original asking price of $84,996, the Demon will happily put most supercars and hyper cars in their place on its home turf. Essentially, the Dodge Demon is using old school American principles where displacement is king and for straight-line speed, the formula still works today.
It's almost a shame that the Demon was limited to only 3,300 units, but at the least the Challenger and Charger Redeye goes some way to match the criteria of the Demon.
Donate To Fast Muscle Car
We spend a lot of time bringing you muscle car content. If you would like to donate something to help us keep going, that would be fantastic.