Best Muscle Cars
Dodge Charger SRT Ghoul With Hellephant V8: Is it Real?
By
|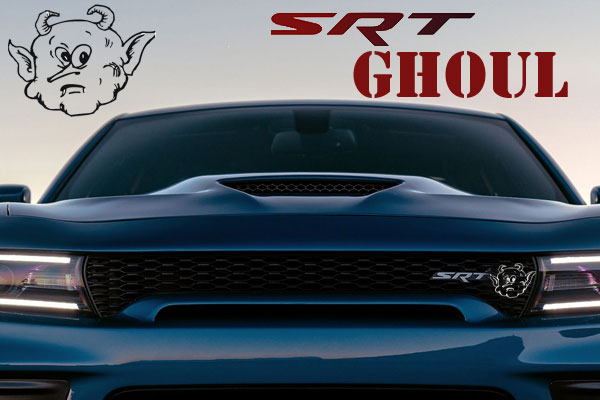 By Dave Ashton
While I was doing the usual sniffing around of the usual car news outlets for the latest muscle car stories, the surprising news of a Dodge Charger SRT Ghoul stood out like a shining star. A limited edition Dodge Charger SRT which will house the ultra scarce 1,000 horsepower Hellephant V8 engine which debuted at the 2018 SEMA Show.
The 6.98-liter (426-cubic-inch) Hellephant V8 crate engine (1,000HP (745 kilowatts) and 950lb. ft. (1,288 Newton-meter) of torque) was a limited run of 100 units, costing $29,995, with some reports saying the engine had so much more potential, thus the idea of making a mind bending thousand horsepower Charger version. A final price of $200k has also been bandied about, making this Charger a very exclusive offering indeed. This all sounds like a great idea, right?
Firstly there is the questionable name of 'Ghoul' as a moniker. Apparently 'Ghoul' means, 'a legendary evil being that robs graves and feeds on corpses' according to the Merriam-Webster dictionary. Urgh, a bit too sinister a name, even from a company who have named their top line model the 'Hellcat'. In comparison, the name 'Hellcat' now sounds rather friendly.
Then there is the question of the Dodge Charger SRT Hellcat. It's currently being promoted as a wide body version and upcoming SRT Redeye features. With an expected 6.2-liter supercharged V8 producing 797 horsepower and 707lb. ft. of torque, wouldn't a 1,000hp Charger overshadow the Redeye somewhat? Then there was the realization that one source had produced this story this year on 2 April and last year on 1 April.
Then there is the point of tuning outfits such as Hennessey who have had an upgrade kit to produce 1,012hp and 969lb.ft. of torque for some years now from a Charger Hellcat. A pricey upgrade, but still well under $200k.
This is a roundabout way of saying, although the Dodge Charger SRT Ghoul reports sound like a great idea, it's more a 'ghoulish' April fools prank than anything else. However, the news does start to make the cogs turn for what a Hellephant powered Charger would be like, even if it was just a one off test mule to prove the worth of the engine.
The problem is once a manufacturer has produced a limited run of a car or engine, producing more will devalue the originals. Everybody wanted a Dodge Demon, so the Redeye was born. As the horsepower wars continue, we may see a 1000hp Challenger or Charger at some point in the future and probably not named as the Ghoul or featuring the Hellephant engine. Either way, it is a very tempting proposition.
If you had to name the next super powerful Dodge Charger, what would you call it? If you need a little help, then this monster name generator could do the trick. Some standouts which the generator threw out for me included, 'Razorboy', 'The Dangerous Troglodyte', 'The Reckless Howler', 'Vortexstrike' and 'Venombeing.'
I think its better to leave the naming conventions to the expert.
Donate To Fast Muscle Car
We spend a lot of time bringing you muscle car content. If you would like to donate something to help us keep going, that would be fantastic.